Sunflowers on Long Island- Festivals, Fields, Mazes & More!
🌻
Celebrate Long Island summers with sunflowers. Sunflower fields crop up on farms from July and into the Fall. Visit these farms for access to amazing photo ops, u-pick opportunities, fun times in mazes and speciality festivals and goods.
Foodie Tips below for special seasonal wine, beer and food items.
Check each location for reservations and associated costs for each event and product.
Updated 2022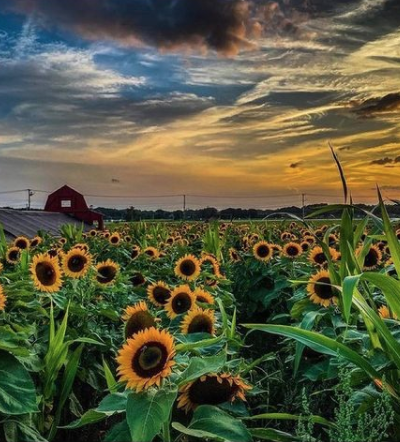 Harbes Farms Jamesport
(Field, Maze)
Harbes is introducing their ALL NEW Sunflower Maze for 2022! Get lost in a breathtaking labyrinth of golden-yellow as you wander through the maze. Don't forget to grab those selfies on the bridge overlooking a sea of sunflowers as you exit the maze!
🌻Sunflower Festival: September 10th & 11th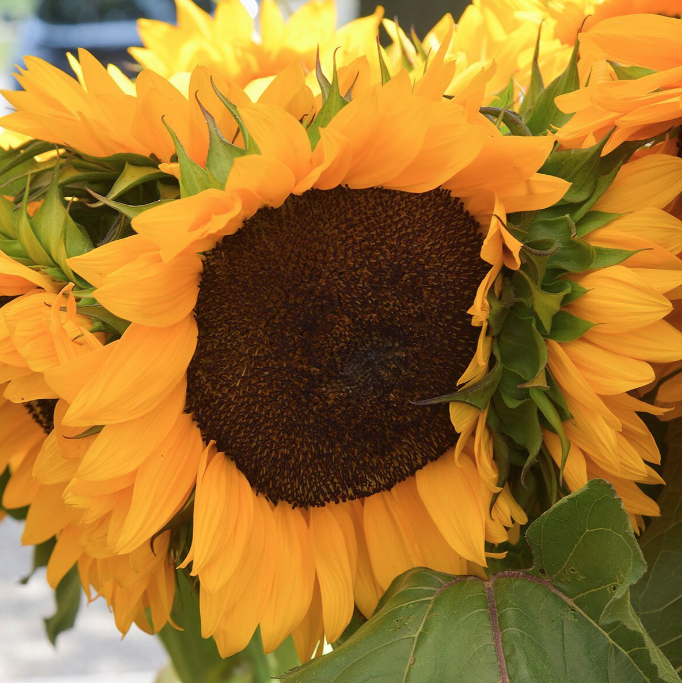 (Field, Maze, U-Pick)
Garden of Eve has the only certified organic U-pick sunflower field on Long Island! Their Sunflower Festival is weekends in late July & August- pick sunflowers, hide in the sunflower maze, enjoy their hayride through the sunflowers, taste sunflower oil and sunflower seeds.
Foodie Insight: Garden of Eve is a certified organic farm with a CSA program, cafe, brewery, and u-pick. Pop over to their Sunflower products!
🌻Sunflower Fest weekends: late July to August- purchase tickets on their website.
4558 Sound Avenue, Riverhead, New York 11901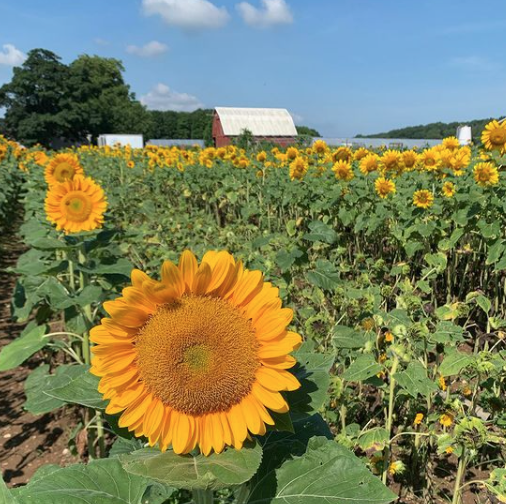 (Maze)
Manor Farm, a historical animal farm and Town of Huntington Park, is utilized by Starflower Experiences, a 501c3 organization to provide fun, educational, and environmental programming for children and adults. Hosting a Sunflower Maze each year and their first Festival in 2021.
Foodie Insight: " From Manor Farm to Your Table" - leave a donation for whatever seasonal produce is available.
🌻Sunflower Festival: July 23rd
210 Manor Rd, Huntington, NY 11743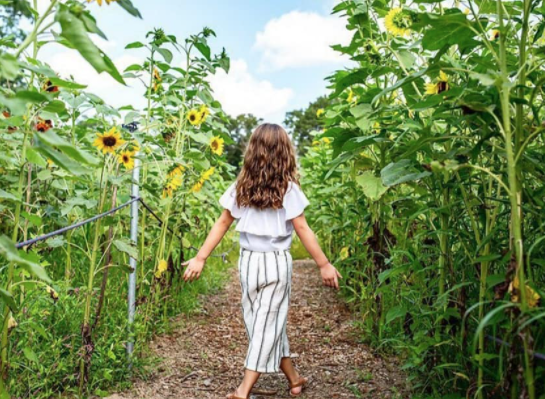 (Field)
Walk the farms beautiful flower fields in season. Perfect photo op. Also schedule a farm tour "Best of Patty's Farm" for a chance to pick your own fruit and flowers and more!
Foodie Insight: Patty's has homemade ice cream with farm ingredients! Vegan option is now available too!
410 Sound Ave, Mattituck NY 11952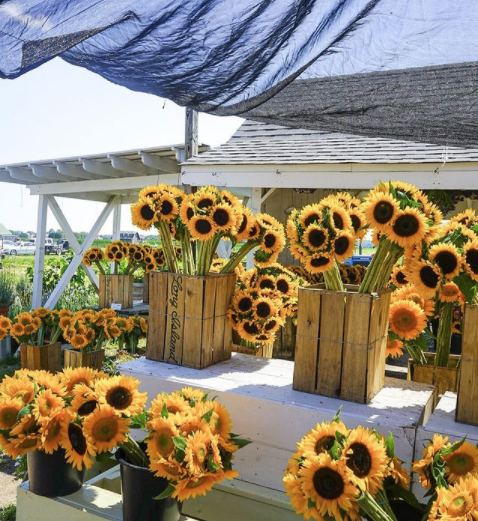 (Field, U-Pick)
A compact sunflower field highlights this popular North Fork vineyard.
Foodie Insight: Pindar has a Sunflower Chardonnay. The grapes for the wine came from a special vineyard site of only 3.9 acres. Get your corkscrew ready!
37645 Main Road (Route 25), Peconic, NY 11958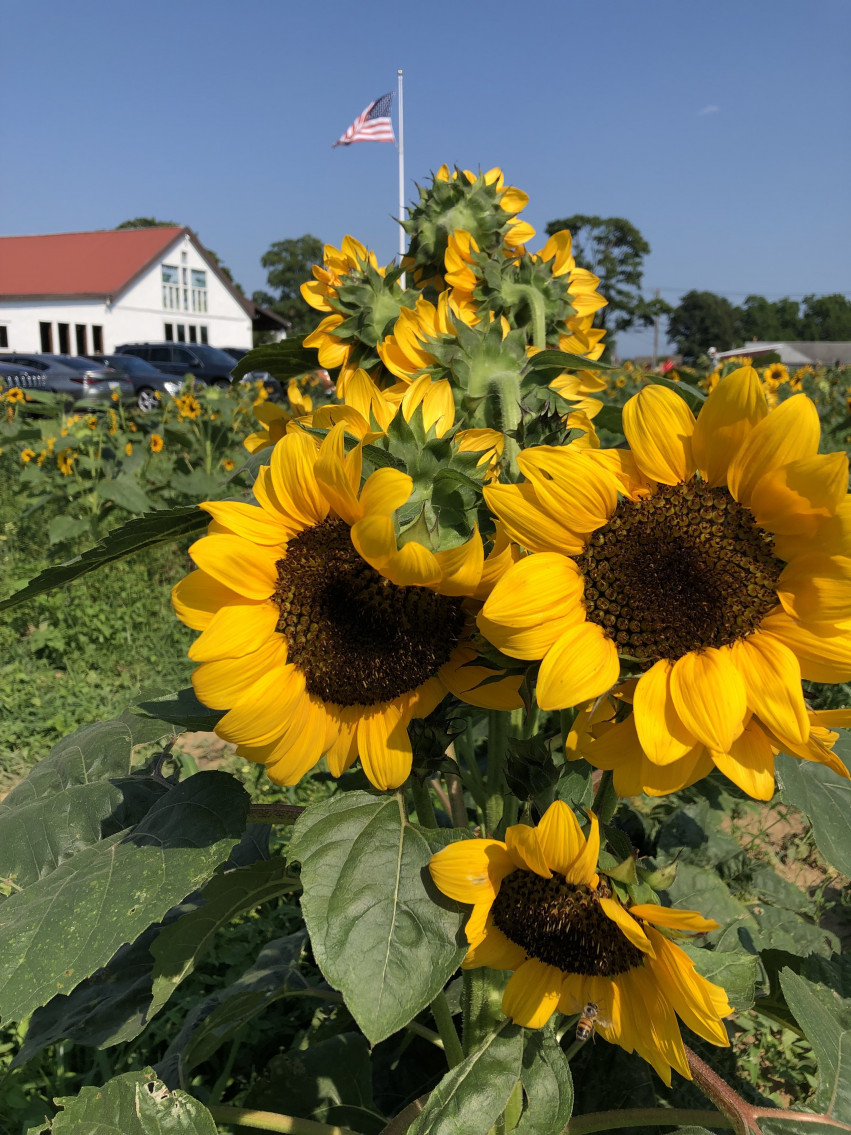 (Maze)
Rottkamps Fox Farm in Baiting Hollow has a popular Sunflower Maze featured in Northforker- so popular in 2020 that they kept opening more fields.
Foodie Insight: Food trucks are featured occurrence at this location.
2287 Sound Avenue, Baiting Hollow, NY 11933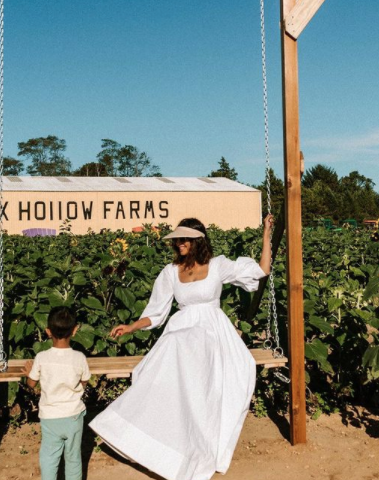 (Field, U-Pick)
Your Fall sunflower destination is at F&W Schmitt's. Spend your day enjoying fall fun and their sunflower field. Choose to take home a few with their u-pick.
Foodie Insight: You can pick your own beets, eggplant and string beans straight from the field. Or head to the concession stand for tasty eats.
26 Pinelawn Rd, Melville, NY 11747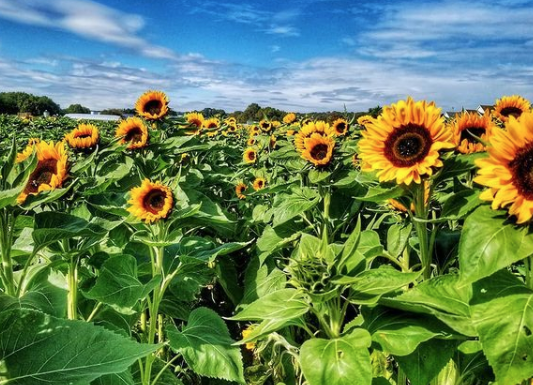 (Field & Maze) Photo @StanleyStumps
Waterdrinker Family Farm has added a Sunflower Festival to its popular roster of events including the popular Tulip Festival. Visit Friday & Saturday evenings for special sunset photo ops.
Foodie Insight: Long Island Farm Brewery situated next door has a beer named The Waterdrinker and they offer a seasonal Sunflower inspired beer.
663 Wading River Road, Manorville, NY 11949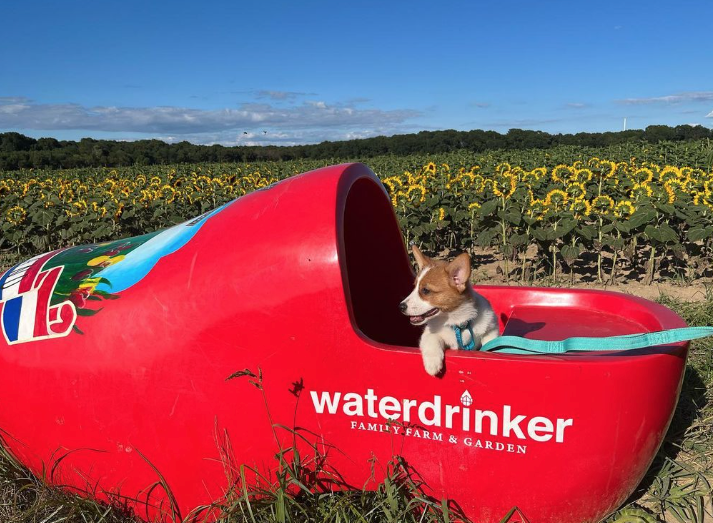 (Field)
If U-Pick is your thing then Windy Acres Farm is your location where you can get straight from the farm produce.
Foodie Insight: Many people are surprised to find a Farmstand & Concession at this quaint Farm. Check out their seasonal selections including donuts!
3810 Middle Country Road, Calverton, NY 11933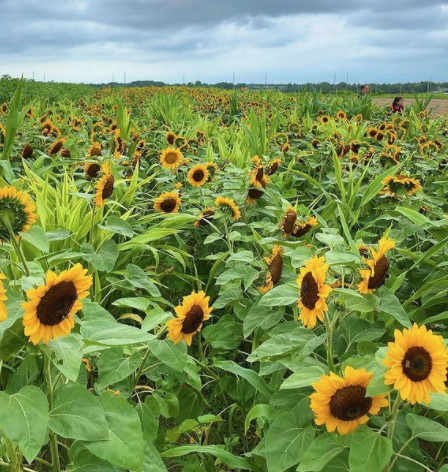 Check back next year- fields need a break too
(Maze)
The North Fork Potato Chip company property is the home ro the the original Sunflower Maze on LI.
Foodie Insight: North Fork Potato Chips "kettle cook" their chips in sunflower oil! So grab a bag!
8350 Wickham Ave, Mattituck, NY 11952