Holidays Fairs on Long Island's North Shore & Beyond
It's that time of year! Find unique gifts and holiday decor at the various holiday fairs across Long Island including the Town of Huntington and beyond. It's a great time to support your local artisans and craftsman.
Lucky To Live Here Realty is sponsoring the Lloyd Harbor Historical Society's Santa in the Barn & Artisan Holiday Fair...
12/4/22 Come dressed for a photo (Santa arrives at 1:00), bring a new unwrapped present for the toy drive and enjoy the artisan created goods in the rustic backdrop of the beloved local landmark, the George Weir Barn. Be sure to grab your Lucky To Live Here jute tote for all your holiday shopping.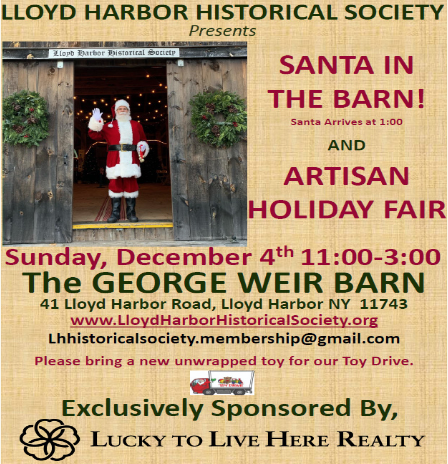 11/5- Melville - St. Anthony's High School- Christmas Craft Fair at with food, shopping and raffles with over 175 vendors.
11/18 & 11/19 - Greenlawn - Friends of the Harborfields Library- Craft fair

11/19- Huntington- Walt Whitman HS Fine Art & Craft Fair- Hundreds of hand made crafts and vendors in both the South Cafeteria and South Gym.
11/19- Centerport- Santaport - hosted by the Centerport United Methodist Church there were be treasures, jewlery, crafts, gift basket silent auction, music, cafe, santa and more!
11/19- Cutchogue- Old Town Arts & Crafts Guild- Antiques, Fine Arts & Crafts Fair - Wide range of gifts: fine art, pottery, knitted and crochet items, photography, jewelry and handmade ornaments.
11/19 - Seaford - Chamber of Commerce Holiday Fair - local artisans, food trucks, hot cocoa, face painting and more!
11/25-11/27- Riverhead- Country Parlor Holiday Folk Arts & Gift Show - All items are handmade by local artisans and craftspeople- items you cannot find anywhere else! Rustic Santas and tree ornaments, holiday home decor and gifts, baskets, jewelry and fine gifts including handmade pottery pieces, plus stocking stuffers for everyone on your list including local jams and preserves, hand made all-natural soaps and so much more.
12/3- Northport- St. Nicholas Bazaar - The bazaar includes homemade goodies for sale, outside vendors, pictures with Santa, the Mouse House (where young children can buy gifts for their parents), the bottle table, raffles, and lunch prepared and served by parishioners.
12/4- Lloyd Harbor - Lloyd Harbor Historical Society- Santa in the Barn & Artisan Holiday Fair exclusively sponsored by Lucky To Live Here Realty.
12/3 & 12/4 - Dix Hills- Art League of Long Island - Holiday Fine Art & Craft Fair- presents an eclectic variety of one-of-a-kind art and craft work.
12/10 & 12/11- Northport- Craft Fair at Northport High School hosted by Depasquale Artisanal Fairs- Outdoor Fair- will feature a variety of vendors with an eclectic assortment of products from jewelry to toys to ceramics.