5 Ways to Shop & Gift Local This Holiday Season
Guest Blog Written By Halie & Theresa, Owners of locaLI bred
It feels like the holiday rush gets earlier and earlier each year. The anxiety for the "perfect gift for everyone on your list" is on! The good news? The solution for all your gifting needs is no further than your local Main Street.
During our journey to find the very best Long Island made products for our locaLI bred gift boxes, we were inspired, and frankly overwhelmed, by the wealth of local talent producing amazing goods across our great Island. The quality, uniqueness, and variety of goods being created here is vast; and by patronizing local businesses we're boosting our community. So, shopping local is good for everyone on your list, literally! We know, we know, it's tempting to be lured into the big-box Black Friday trap and Amazon Prime Day is a mere click away, but shopping local is just as easy, and definitely more "feel good". Here's locaLI bred's five ways to gift local this year:
1. Shop main street, and be a cooler gift giver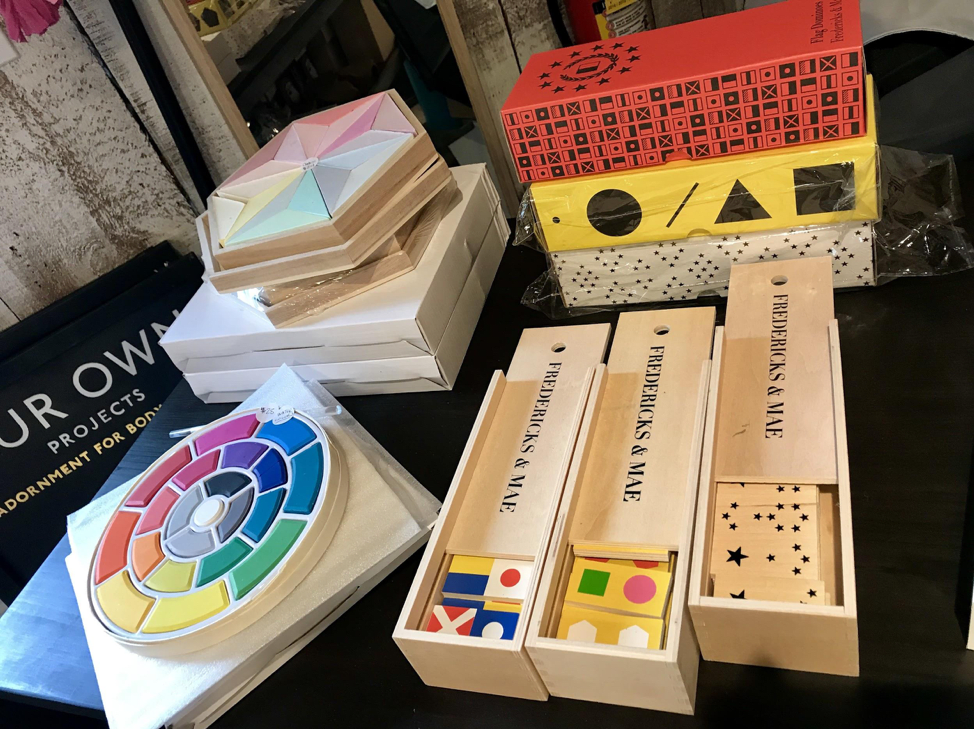 The North Shore, and the Five Harbors area in particular are anchored by picturesque Main Streets. No more than 10 to 15 minutes apart from each other, these walkable shopping and dining avenues offer an array of unique and thoughtful gifting opportunities.
One such shop, Our Own Projects, nestled in the quaint Main Street of Northport Village, is not only a visual splendor of colorful goods, like Fredricks & Mae's reimagined classic dominos in nautical flags, shapes, or whimsical stars. But, shop owner and former NYC designer, Liz, built her business on procuring handmade products from sustainable materials. Liz, seeks out small makers like Northport local, Francis West, who designs and makes serene necklaces and jewelry, mixing Long Island sea glass, charms & military chains. She, then takes it a step further, and wraps the gifts in handmade tie-dyed bandanas with bows. Our Own Projects, is hosting a week-long Shop Small Business appreciation event, Nov 21 - 26.
2. Go online to shop local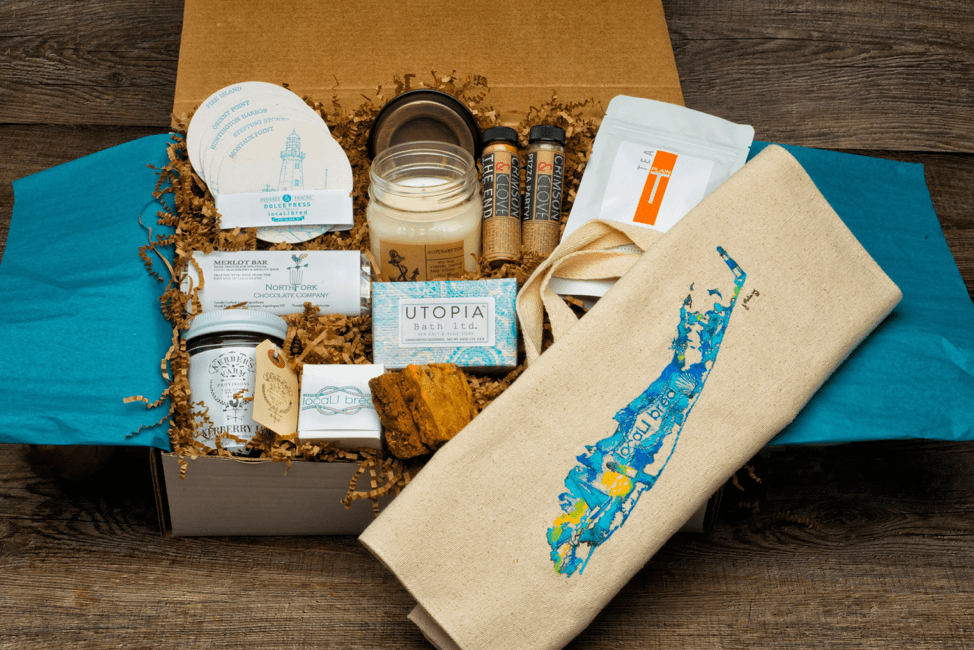 It's now easy to shop local, show your LI pride, and not have to leave the comfort of your pjs. The world wide web is also an avenue to shop hyper local and support businesses that either choose to be online or are too small to have a retail space of their own.
Sites like Etsy or new online based shops like www.locaLIbred.com bring the craftsmanship of local makers to your front door with the ease of a few clicks. locaLI bred showcases locally sourced goods (edible and non-edible) from the Island's best makers and artisans. We like to say it's "Long Island in a Box," and offers a simple, time saving way to send a gift online while supporting our local community. Our gift boxes, subscription boxes, and marketplace offer memorable curated gift options, at an array of prices (from $10 to $225), delivered with a handwritten note to your recipient's door anywhere in the U.S.. It doesn't get much easier to gift local this year!
3. Give cards that they'll love reading...for once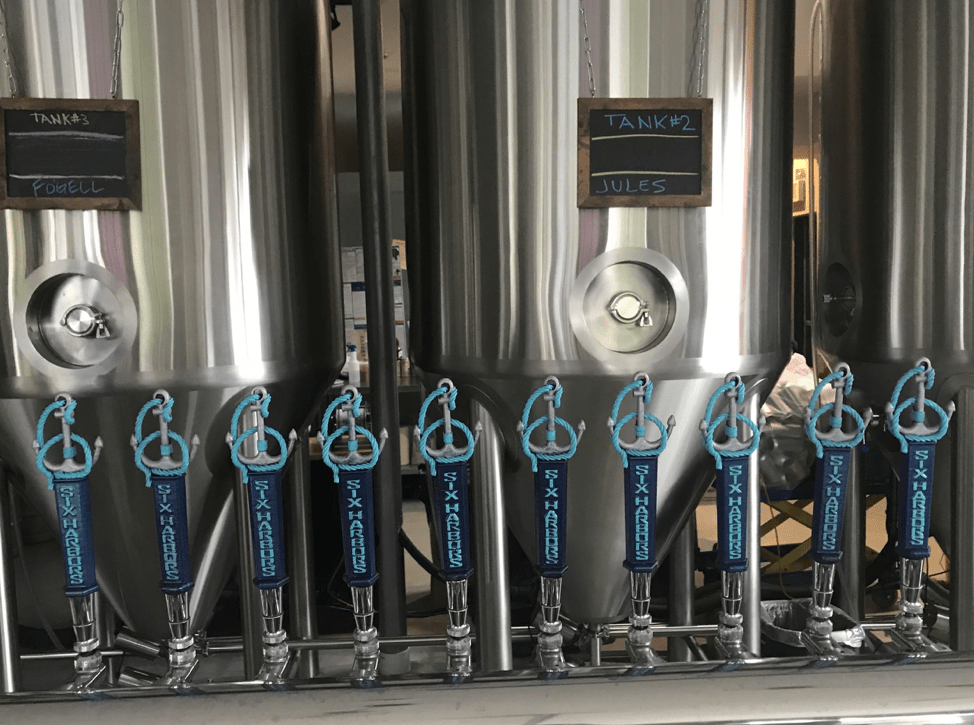 Everyone, especially teachers, knows the deal. If you receive an envelope this holiday season there is a 99.9% chance there's a coffee gift card inside. Instead of the usual, why not show a little extra local love this season, and woo your recipient with a "real" beverage break gift card to a local brewery such as Six Harbors Brewing Company in Huntington Village. While you're dealing out the cards, perhaps pick up some that create a theme of sorts, such as a "night out". Along with the brewery, include a gift card to a locally owned restaurant and top it off with one to the new Nitro Space ice cream spectacle for dessert. A fun way to give a gift recipient the nudge they need for a fun night out on the town.
Sure to create some serious holiday cheer this year, Six Harbors Brewing Company will be featuring three holiday "reinbeers" - Rudolph, Blitzen and Vixen.
4. Show up to a pop-up
Small Business Saturday (November 24th) is the perfect time to take your family to Main Street, Huntington Village to enjoy the festivities and shop small. Amidst the crafting for kids (starting at 1pm at the Huntington Library), scavenger hunt (kicks-off at Ben & Jerry's), store discounts, 9th Annual Winter Wonderland holiday parade and tree lighting, you'll find locaLI bred's pop-up shop at fellow woman-owned local business, Wax Republic. Pop in to enjoy some hot chocolate with our locaLI bred blondies and brownies while you shop our gift boxes and locally made Long Island products. We'll make sure your holiday shopping is easy, thoughtful and done before it's ...just plain Sunday.
5. Share a taste of local goods
The holidays are synonymous with baked goods- making them, eating them and (of course) sharing them. Kerber's was founded from owner, Nick Voulgaris III, nostalgia for what the farm meant to his happy holiday memories as a child. So, Kerber's continues to bring those joyous memories in the form of delicious pies, jams and cookie jars. Head to the farm nestled right off Pulaski in Huntington, or online to pre-order their famed pies to impress guests for Thanksgiving. While you're there pick up a Homemade Apple Pie Kit crate to gift, or to bake to bring to holiday festivities.
Buying local gifts is thoughtful, meaningful and supports our community. It's truly the gift that keeps on giving!
---

Thanks for reading! Cheers to a magical holiday season.
- Halie & Theresa