Tour Gold Coast Mansions on Long Island
From the Roaring 20's until the Great Depression, Long Island's North Shore from Nassau County to Suffolk County's Huntington Township was comprised of numerous homes for the wealthy and famous. "The names of the industrialists and bankers who, benefiting from America's second industrial revolution, sought to outdo each other with the size and ostentation of their castles are a veritable "who's who" of the "Gilded Age." All over the region, Astors, Guggenheims, Morgans, Vanderbilts, and other capitalists with seemingly inexhaustible resources erected homes in practically every great architectural style imaginable, often raiding the great homes of antiquity in Europe to acquire ornate decorative and structural components that soon were installed in Long Island palaces." This affluent stretch of the North Shore became known as the "Gold Coast". The name still persists today even if many of the Gold Coast mansions no longer remain. The remaining Gold Coast mansions serve varied functions from event spaces, museums, educational centers, museums and more. Take a tour of one of the incredible properties to take a trip back in time to the era of the "Great Gatsby" and all its extravagance.
* Bonus scroll to find Gold Coast mansions you can dine at
Tourable Mansions
Nassau County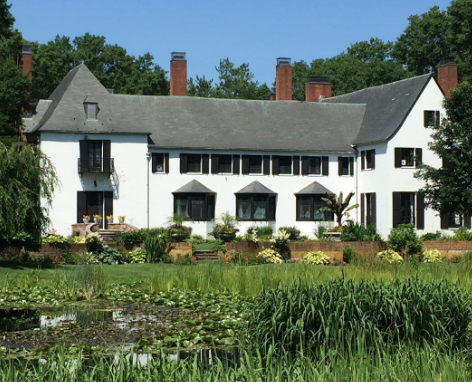 Chelsea Mansion at the Muttontown Preserve - East Norwich- "40–room mansion, named to the National Register of Historic Places in 1979, was built by Mr. and Mrs. Benjamin Moore in 1924 and is an outstanding example of the design ideas prevalent during the latter part of Long Island's Gold Coast Era. A blend of French, English and Chinese influences, the mansion provides a sense of mood, elegance and charm, while achieving well-proportioned, livable interior spaces. The mansion is open to private events and tours on select days." Take a tour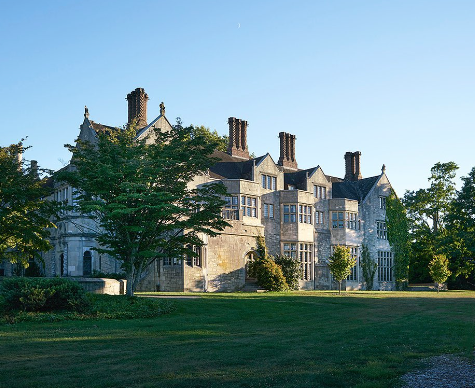 Coe Hall - Oyster Bay- "a 65-room Tudor Revival mansion designed by architects Walker & Gillette. It began to take its current form in 1913 when the land was purchased by William Robertson Coe, an English immigrant, and Mai Rogers Coe, heiress and daughter of Standard Oil partner Henry Huttleston Rogers. The landscape was largely the vision of the Olmsted Brothers Firm and retains its original 409 acres of greenhouses, rolling lawns, formal gardens, woodland paths, and plant collections. Made to look as if it stood for centuries, the architecture and design of Coe Hall is a showcase of artistry and craftsmanship that features a distinctly American aesthetic through whimsical interior decoration by Elsie de Wolfe, original ironwork commissions by Samuel Yellin, and murals painted by artists Robert Winthrop Chanler and Everett Shinn. Planting Fields has been included in the National Register of Historic Places since 1979." Take a tour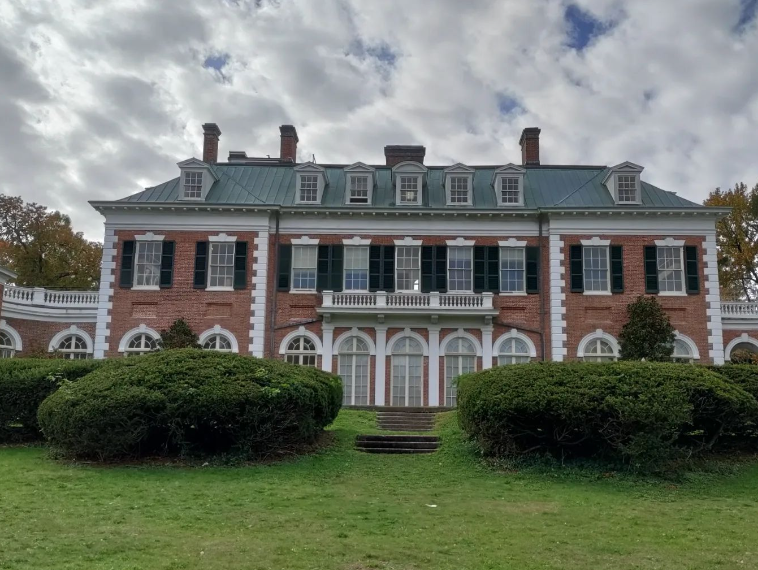 The Frick "Clayton" Estate - Today "Clayton" is the Nassau County Museum of Art - Roslyn- "The property originally belonged to William Cullen Bryant. "In 1862 Bryant built a Gothic Revival board guesthouse on his Upland Farm, now the Museum property.... In 1900, Lloyd Stephens Bryce purchased Bryant's Upland Farm and commissioned the architect and tastemaker Ogden Codman to design a neo-Georgian mansion on an elevated site overlooking Hempstead Harbor, now Nassau County Museum of Art.... In 1919 Henry Clay Frick, co-founder of US Steel Corporation and world famous art collector, purchased Bryce House as a gift for his son and daughter-in-law, Childs and Frances Frick. They hired British architect Sir Charles Carrick Allom to redesign the facade as well as the interior of their new home, which they named Clayton. The grounds at Clayton developed by the Fricks were among the foremost landscapes in America." Take a tour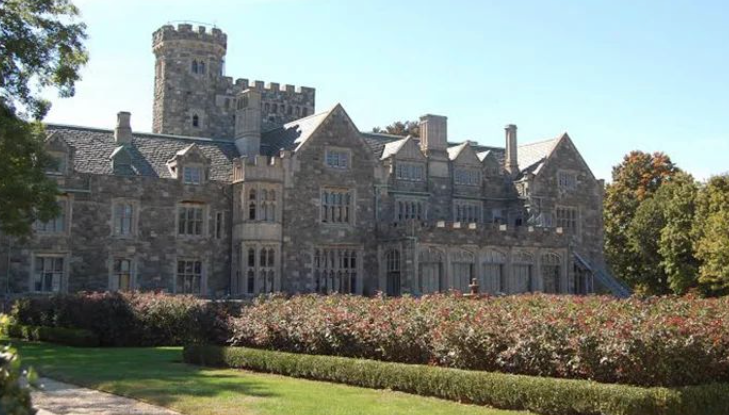 Guggenheim Estate - Sands Point - "The Sands Point Preserve on the original Guggenheim Estate embodies the grandeur and elegance that define the Gold Coast period of the early 20th century, when prominent American families built great mansions on large estates as summer retreats along the Long Island Sound. The Sands Point peninsula was the famed "East Egg" in F. Scott Fitzgerald's "The Great Gatsby."" The Guggenheim Estate/Sands Point Preserve is composed of four mansions- Hempstead House, Castle Gould, Falaise, Mille Fleur. Take a tour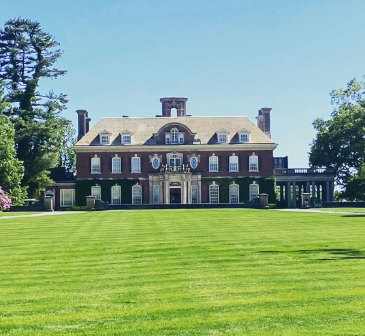 Westbury House - Old Westbury- "listed on the National Register of Historic Places, is the former home of John S. Phipps, his wife, Margarita Grace Phipps and their four children. Completed in 1906 by the English designer, George A. Crawley, the magnificent Charles II-style mansion is nestled amid 200 acres of formal gardens, landscaped grounds, woodlands, ponds and lakes. Westbury House is furnished with fine English antiques and decorative arts from the more than fifty years of the family's residence." Take a tour
Suffolk County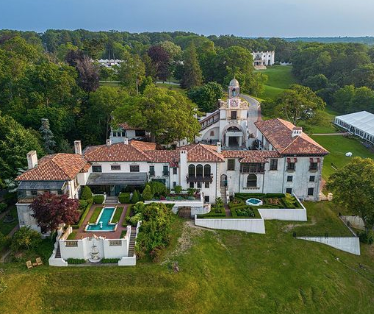 Eagle's Neck - Centerport- "Eagle's Nest is the summer home of William K. Vanderbilt II, the great-grandson of Cornelius Vanderbilt. Listed on the National Register of Historic Places, Eagle's Nest was built initially in 1910 as a small English cottage. Over the next 30 years, the house grew into the sprawling 24 room Spanish-Revival mansion that is seen today. Eagle's Nest was designed by famed architects Warren and Wetmore, who took inspiration from the architecture of Spain and Northern Africa, and adorned with ironwork made by master craftsman Samuel Yellin. Unique among many mansions, Eagle's Nest was not only built with living space for Mr. Vanderbilt and his family, but also museum space where Vanderbilt could showcase the thousands of natural history and cultural specimens he had collected from his travels." Take a tour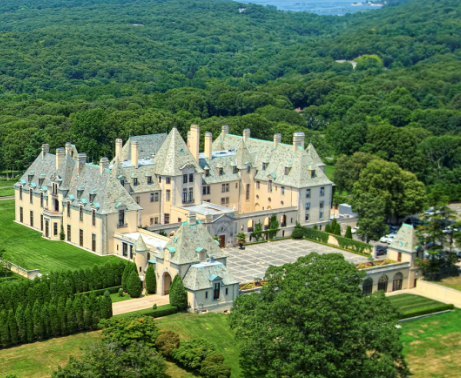 Oheka Castle- Huntington - "financier and philanthropist Otto Hermann Kahn built OHEKA CASTLE in the middle of a 443-acre plot on the highest point on Long Island in Cold Spring Harbor for an estimated cost of $11 million ($158 million in today's currency). At the time of its construction, the French-style chateau was—and still is today—the second-largest private residence ever built in America. After Otto Kahn died in 1934, the estate changed hands several times, serving as a retreat for New York sanitation workers and a government training school for Merchant Marine radio operators. In 1948, the Eastern Military Academy bought OHEKA, bulldozed the gardens, subdivided the rooms, and painted over the walls. After the school went bankrupt 40 years later, OHEKA stood abandoned, except by vandals who set numerous fires over five years. In 1984, developer Gary Melius purchased OHEKA and the remaining 22 acres that surrounded the estate and began the painstaking challenge of restoring the Castle to its original grandeur." Take a tour
Notable Mentions
Not all incredible homes are considered Gold Coast Mansions and not all Gold Coast mansions can be toured. Check out these very special properties.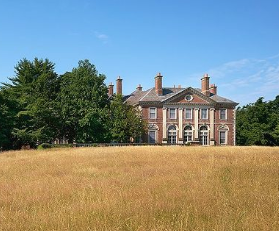 Caumsett - Lloyd Neck- owned by Marshall Field III of the Marshall Field department stores in Chicago. Field purchased 2,000 acres on Lloyd Neck and began building. Starting in 1922, an ambitious building program commenced-the main house, polo stable, the Summer and Winter cottages, the farm group, were constructed at breakneck speed-all constructed with the highest quality materials. The greenhouses, indoor tennis courts, not to mention a myriad of smaller houses and dormitories for caretakers and resident employees completed the buildings on the estate. You can not tour the interior of the main house but you can see the exterior by visiting the NY State owned Caumsett State Park.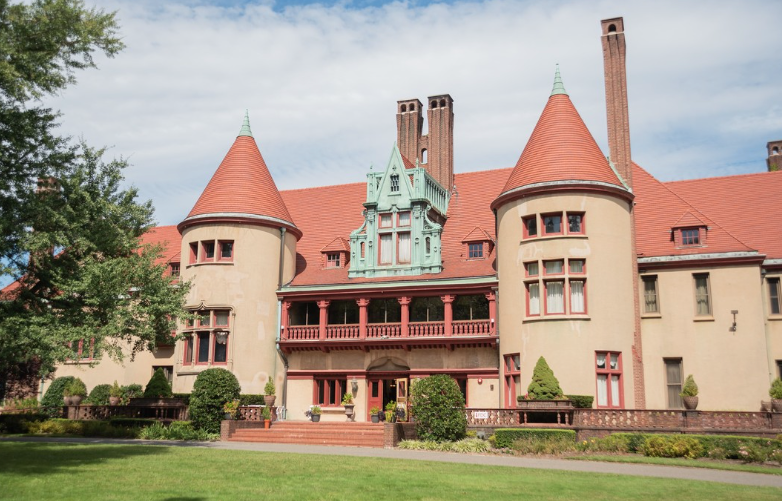 Coindre Hall - Huntington- 80,000 square foot mansion overlooking Huntington Harbor. Built for pharmaceutical giant George McKesson Brown in 1912, this mansion represents the height of the Gold Coast era with its Medieval turrets and sweeping views of the harbor. You can see the exterior as it is part of a 33 acre park controlled by Suffolk County. To see the interior, get invited to an event! The mansion is used by Lessings for catering. Tours are done by appointment during specific months when scheduled in advance.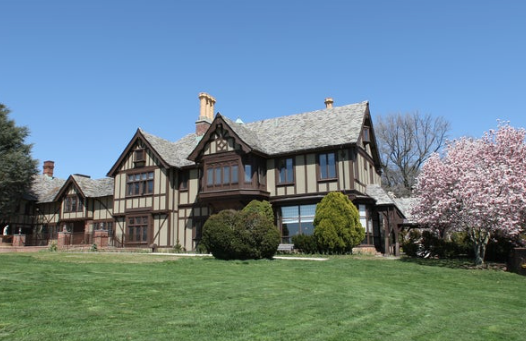 Hillwood Estate/ C.W. Post/LIU Post - Brookville- Hillwood Estate was owned by the Post Cereal heiress Marjorie Merriweather Post and her second husband Edward Francis "E.F." Hutton. Today the estate is home to LIU Post formerly C.W.Post which was named after Merriweather's father, Charles William Post, the founder of the Post Cereal Company. On the LIU Post there are 3 gold coast mansions. " The first building, the Winnick House, was a part of Post Cereal heiress Marjorie Merriweather Post's estate. The Winnick House today houses the Admissions Office, Study Abroad Office, and some of the new Success Coach offices, as well. The second estate of Post, the Fine Arts Building, belonged to famous Wall Street broker Edward F. Hutton, who moved to the estate after he and Marjorie Post divorced. Finally, the third part of the campus known as Lorber Hall was owned by William E. Hutton, the nephew of Edward F. Hutton." While not tour-able mansions, if you are happen to find yourself on campus you may just be walking by one of these prominent homes.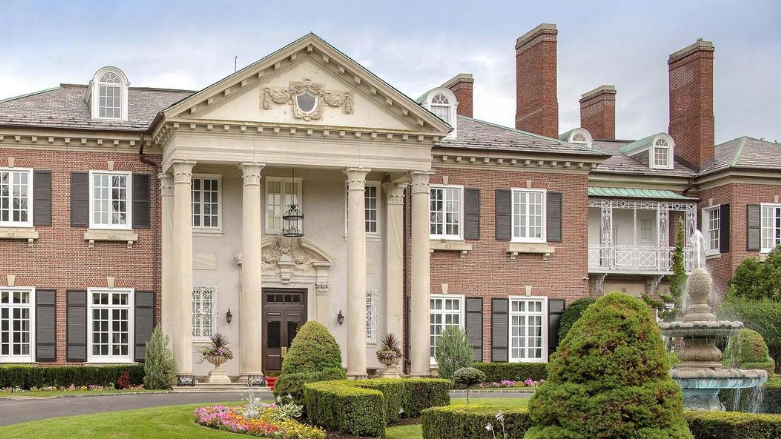 Glen Cove Mansion - enchanting Georgian estate – with views of Long Island Sound – nestled on 55 sprawling acres of magnificently manicured lawns. The Mansion at Glen Cove was designed by noted architect Charles Adams Platt in 1910 and was soon after named one of the Twelve Best Country Houses in America. The 55-acre estate was the home of John Teele & Ruth Baker Pratt. John Pratt was an attorney and an executive with John D. Rockefeller's Standard Oil Company. Currently being used as a hotel, so while you can not tour the mansion but you can stay or dine there. The Mansion has 187 guest rooms and suites, and a new Wellness wing.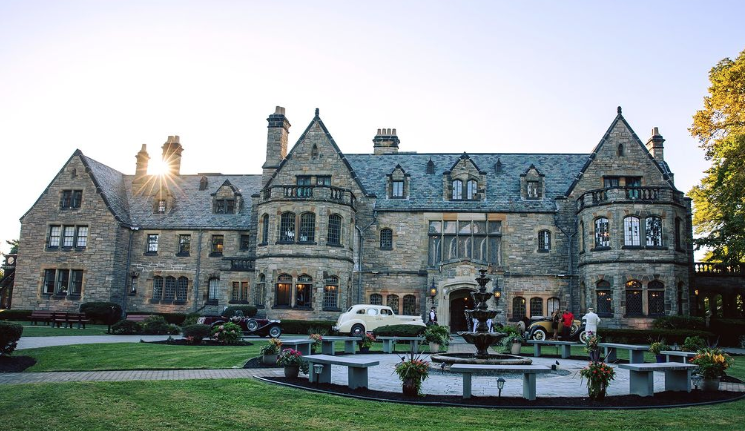 Sefton Manor - Mill Neck Manor - "a majestic Tudor Revival mansion, is set on an 86-acre estate overlooking the Long Island Sound. The mansion, once called Sefton Manor, was owned by Robert Leftwich Dodge and his wife, Lillian Sefton Dodge, who was the president of the Harriet Hubbard Ayer. The architectural firm of Clinton & Russell, Wells, Holton & George was retained in 1923 to design the home for the Dodge family, which cost $2 million to construct and more. The Mill Neck Manor is a two-story residence with over 34 family rooms, 16 bathrooms, including numerous guest and service rooms. Rusticated Westchester granite blocks trimmed in limestone cover the exterior. The solid oak doorway reported to be between 400 and 500 years old is studded with iron details and unusual hardware made by Samuel Yellin." Today the Manor House is used for private events, photo shoots, tv/film production and fundraising. Tours are rarely offered but you may be able to see the home at one of their events.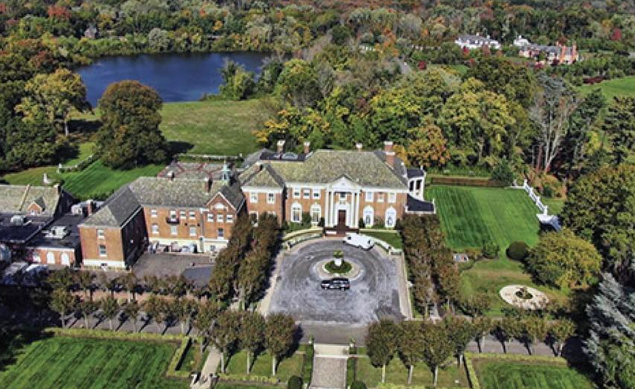 White Eagle/Templeton - NYIT de Seversky Mansion- Old Westbury- businessman, inventor, and philanthropist Alfred I. du Pont commissioned famed architect Thomas Hastings to design this residence. Du Pont's White Eagle, as the mansion was then called, was completed in 1918 at a cost of $1.1 million. In 1926, DuPont sold the estate to Fredrick E. and Amy Phipps Guest, who renamed it Templeton. Mr. Guest, Winston Churchill's first cousin, was the grandson of the seventh Duke of Marlborough. Mrs. Guest was the daughter of Henry Phipps, Andrew Carnegie's partner in the Carnegie Steel Company. In 1972, New York Institute of Technology purchased Templeton from the Guest family and renamed it after the famous Russian aviator, Alexander P. de Seversky, a member of the NYIT Board of Trustees who was instrumental in the acquisition. NYIT de Seversky Mansion is part of the NYIT campus and is available for wedding and social events.
Dine at a Gold Coast Mansion
* Bonus * Old Westbury Garden - Cafe in the Woods- dining outside with a distant view of the mansion