Sometimes all you need is a good cuppa tea.... we couldn't agree more. There are sweet cafes dedicated to tea as well as hidden gems where you can enjoy not only a special tea service but beautiful surroundings.
English Tea Service faqs:
High Tea and Low Tea are commonly confused- High Tea was a working-class meal served shortly after 5pm.
Afternoon tea, also called low tea is a formal tea service with finger foods

Traditionally served in fine china and ornate teapots
Foods served on tiered trays and typically includes scones with clotted cream and jam
Traditionally served between 2pm and 5pm

There are many variations of Afternoon Tea including Cream Tea, Light Tea, & Full Tea- each varying by what foods are offered for each.
Tea Rooms & Tea Service
Chat Noir Teahouse & Bistro- Rockville Centre- features french inspired classic as well as a tea service which includes finger sandwiches, scones and pastries.
Robinson's Tea Room - Stony Brook- offers the British Afternoon Tea service, which includes sweets, savories and scones on a three-tier tower with unlimited tea, is a favorite for guests looking for something special and unique.
Special Effects Salon & Tea- Greenport - delicious spot with a simple tea and classic tea option with numerous add-ons to enjoy. Tea room and tea garden are open select days during the week.
Swing the Teapot- Floral Park- while you may not find a tea service here, you will find a large selection of tea for one or a group served up with plenty of Irish history and delicate china and tea decor.
The Secret Garden tea cafe & gift shop - Port Jefferson- features a menu with a Full Afternoon Tea. They also serve traditional clotted cream imported from England. Their gift shop is a great place to pick up some teas.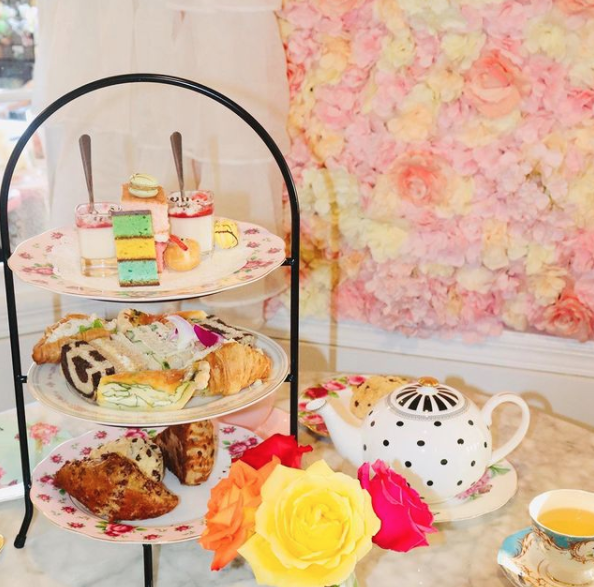 Hidden Cafe's with Tea Service
The Hidden Oak Cafe at the Bayard Cutting Arboretum offers 14 different types of teas for their Victorian Tea which includes finger sandwiches and scones. You can also walk the beautiful grounds filled with informal planting and tour the Cutting estate.
The Cafe in the Woods at Old Westbury Gardens for Afternoon Tea which includes scones, sandwiches, and cookies in addition to a tea selection. The gardens at Old Westbury are a standout. George A. Crawley, a British artist, designer and purveyor of English taste, brought together a total concept of house and gardens in his estate design for the Phipps family. Today, visitors can experience the grounds and gardens, which remain largely untouched from the Phipps era, with many English-style perennials and biennials preserved.