Great Gatsby Event at Mill Neck Manor
A House Fit for a Cause
If you have perused around the golden coast of Long Island, we are sure you are no stranger to the jaw dropping Gilded-Era estates that sprawl the tree lined streets. I often find myself curious to learn more about their rich history and connections. One majestic Tudor revival style mansion, with over 34 family rooms, and 16 bathrooms, distinguishes itself by serving an incredibly honorable mission.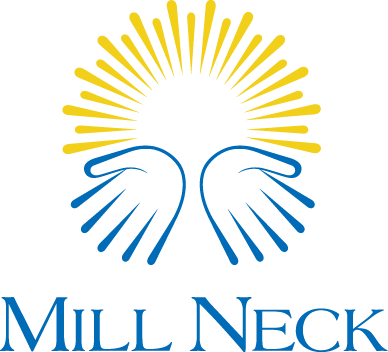 Mill Neck Manor, an 86 acre estate overlooking the Long Island Sound was built in 1923 and previously known as Sefton Manor was owned by Robert Leftwich Dodge and his wife, Lillian Sefton Dodge. Ms. Lillian Sefton Dodge was the president of the internationally acclaimed cosmetics company, Harriet Hubbard Ayer. Ms. Sefton Dodge established herself as a remarkable influence as a female leader in business and was even the highest paid female executive in the United States in the year of 1938.
In 1949, the estate was purchased by Lutheran Friends of the Deaf, the founding organization of Mill Neck Family of Organizations, for the purpose of establishing a school for Deaf children. Mill Neck Manor School for the Deaf continues its legacy today, along with our other programs which are centered around adults who are Deaf and Hard of Hearing, and those with intellectual and developmental disabilities. Such groups include our Day Habilitation Program and Community Habilitation Program that assist these individuals with job training and life skills, Employment Services and Interpreting Services. The organization continues to use the captivating beauty of this historic home to benefit their mission to serve Deaf and Hard of Hearing children and adults, as well as the community at large, through special events, tours, TV/film production, photography shoots, meetings, and more.
In fact, in the next upcoming weeks, the employees at Mill Neck are eagerly preparing for a highly anticipated fundraising event: Great Gatsby at The Manor. On the evening of Saturday, May 20, 2023, from 6:00 PM – 9:00 PM the Manor will be transported back in time and transformed into an enclave of 1920s high society. Guests from all over will sport their Roaring '20s era ensembles for a night of entertainment, hors d'oeuvres, and giggle juice. What better place to get into the Gatsby spirit than the very setting that inspired F. Scott Fitzgerald himself?
All proceeds from the event will benefit the Mill Neck Family of Organizations' mission to create a world in which Deaf and hard-of-hearing individuals are included, empowered, celebrated and embraced as equals through quality educational, employment, audiological and spiritual programs and services.
To purchase tickets to this upcoming event and see our stunning Manor House for yourself, please visit www.millneck.org/gatsby
For more information about Mill Neck Family of Organizations, please visit us at www.millneck.org