Carousels on Long Island 🎪
* Update- Please go to each venues website to find out about any restrictions, pricing, availability and hours.
Long Island is a special place to live. Surrounded by water but also with history, arts and cultural sites. One of the many features that many Long Islanders may even overlook are the carousel's sitting in their local parks. Long Island is home to two of America's Best Carousels as rated by Travel & Leisure.
Special note:: Values of homes in areas with museums, parks or cultural sites tend to be higher than those without. As Realtor magazine pointed out in 2018, property values of homes near new museums can surge between 20 percent to 50 percent over a period of five years. Take advantage of these venues and make sure that they are kept up as they are not only a benefit while you live there but a benefit when you go to sell.
Merry-Go Round FAQ's:
The first carousel was patented in 1871, but the notion of carousels dates back to the Crusades
Only five New York City parks operate carousels: Prospect Park in Brooklyn, Central Park in Manhattan, Flushing Meadows-Corona Park in Queens, Forest Park in Woodhaven and Willowbrook Park in Staten Island.
Carousels or Merry-Go Rounds are celebrated on July 25th every year
Suffolk
Northrup Grumman Carousel- Mitchell Park, Greenport- the carousel has thirty-six horses and two sleighs constructed from various materials including four small wooden horses carved around the turn of the last century.
The Carousel- 5720 NY-25A, Wading River- Located in the Shoppes at East Wind - is a newer carousel to the others on Long Island- built in 1993. It has a variety of animals to delight riders including a cat, zebra, bunny and even a dragon! 📸 @rockstarnewyork
Allan Herschell Carousel @ the Long Island Game Farm, Manorville, NY- 1950's build with 36 jumping horses and 2 chariots. Click for more unique facts about the LI Game Farm.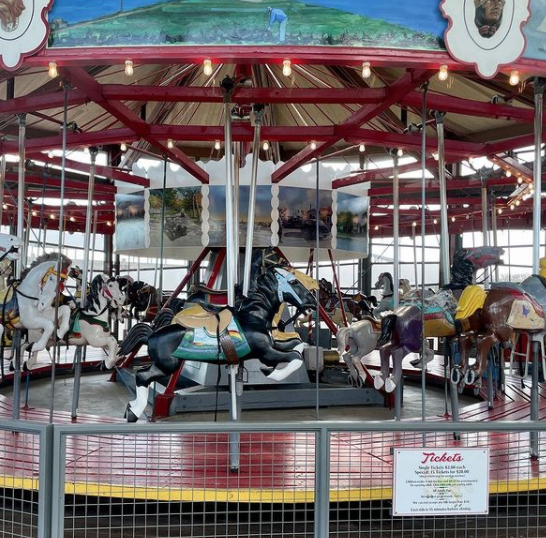 Nassau
Hempstead Lake Carousel- historic merry-go-round dates back to 1916 when it was donated by A. Heckscher and restored in 2004-2005.
*A bonus is that you can rent the Carousel Party Room.
Nunley's Carousel- Charles Lindbergh Blvd, Garden City- Nunley's Carousel was created in 1912 by the Stein and Goldstein Artistic Carousell Co. of Brooklyn New York. Nunley's Carousel is located in its own building adjacent to the Cradle of Aviation Museum on Museum Row. As of 2022, it is being operated by the Long Island Children's Museum.📸 @ol_nm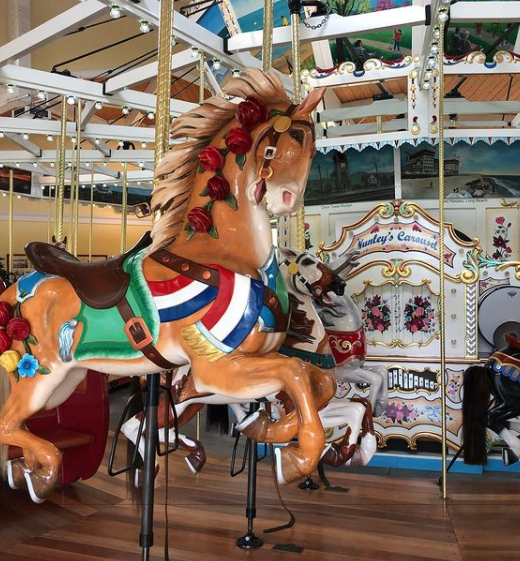 Queens
Flushing Meadows Carousel- 5351 111th St, Queens (next to the Queens Zoo)- One of the world's most unique amusement rides, this attraction was created for the 1964-1965 World's Fair by combining two historic Coney Island carousels. This iconic New York City fun machine is the largest carousel in the entire borough of Queens with 64 jumping horses, 7 standing horses, 1 menagerie animal, and 2 chariots!
Forest Park Carousel- Woodhaven Blvd & Forest Park Dr, Woodhaven- is one of two known surviving carousels hand-crafted by world-renowned artist, Daniel Carl Muller. Dating to the early 1900's, the carousel contains 49 horses, a lion, a tiger, a deer, and two chariots arranged in three concentric circles. The carousel also contains an original carousel band organ.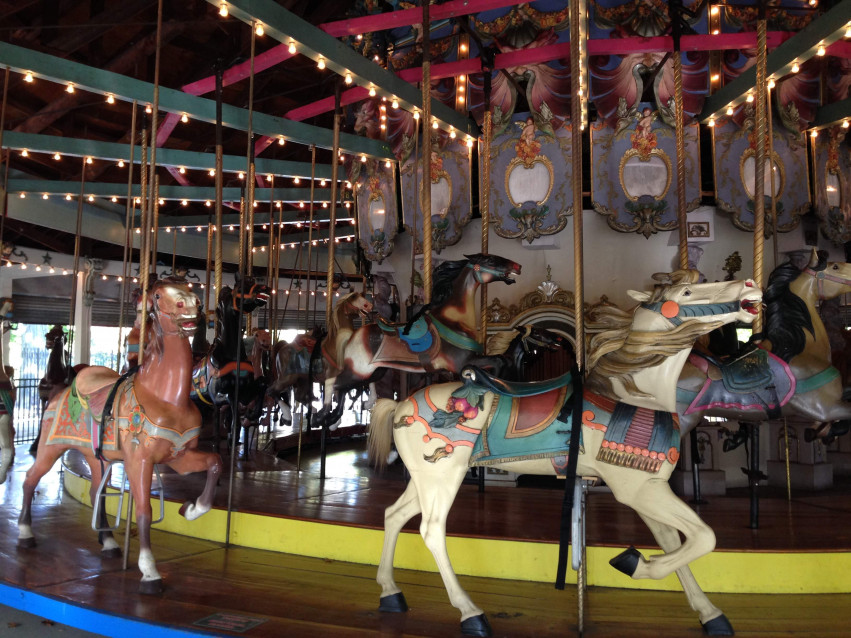 Brooklyn
B&B Carousell- Luna Park, 1000 Surf Avenue, Brooklyn- Originally built in Coney Island in 1906, this historic classic merry-go-round ride has the brilliance and magic to transport riders back to the golden age of the American carousel.
Janes Carousel- New Dock St, Brooklyn- 48 exquisitely carved horses and two superb chariots, it was created in 1922, the heyday of the American Carousel, by the Philadelphia Toboggan Company (P.T.C.) Designated as PTC. No. 61, it was originally installed in Idora Park in Youngstown, Ohio. 📸 @my.new.york.city & @janescarousel
Prospect Park Carousel- 452 Flatbush Ave, Brooklyn- Its 53 magnificent horses ride alongside a lion, a giraffe, a deer and two dragon-pulled chariots. Carved in 1912 by Charles Carmel, one of the foremost carousel designers of his time. It is one of the only wheelchair accessible carousels in the nation.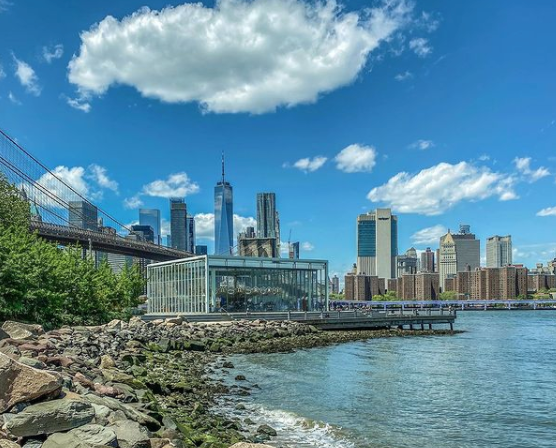 More Go-To NYC Carousels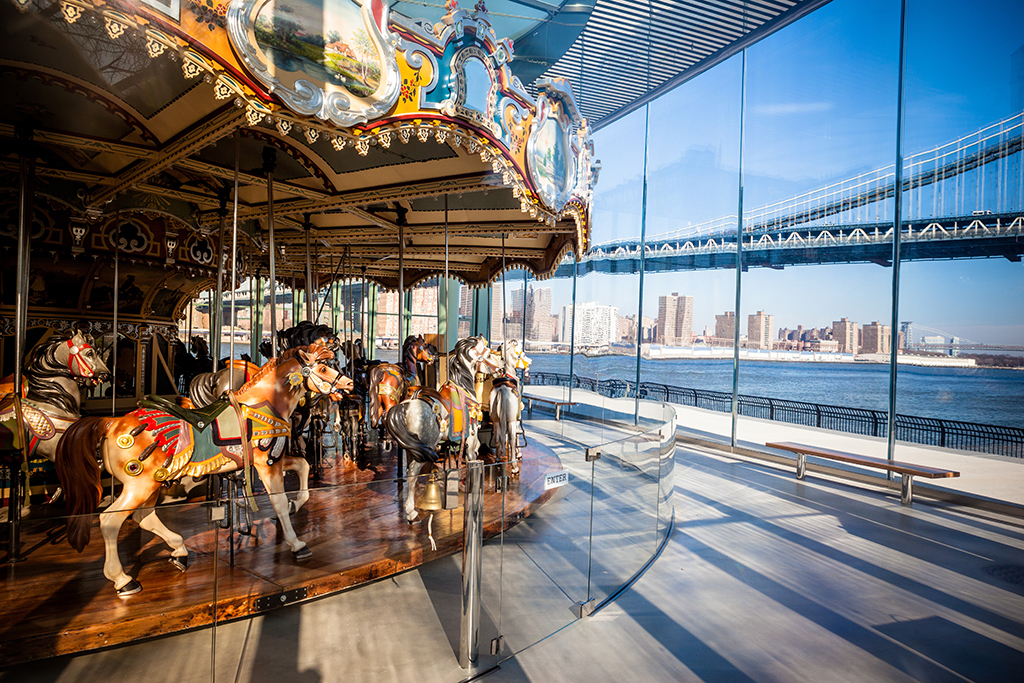 The best carousels in NYC are calling your name! Head to Coney Island, the Bronx Zoo and o...