Lucky To Live Here Realty Celebrates 5 Years
Lucky To Live Here Realty opened it's doors 5 years ago on March 17, 2020
March 17, 2015

October 2016

June 2017

March 17, 2015 - March 1, 2019

August 2019 - January 2020
February 2020




Lucky To Live Here Realty was born! (check out our blog on why boutique is better)





Opened the doors to our new home at 129 Main Street, Cold Spring Harbor, which includes a Bakes & Kropp's showroom. (see our grand opening photos here)





Highest closed total volume in Cold Spring Harbor... $17,974,000 which was 34% of the market!





309 closed units
$290M+ in total volume


Elena & Joyce are #1 brokers in the Huntington Township with $20M in Sold Volume and $50M in New Listings

The start of our weekly vlog premieres. Created to inspire, educate and help those looking to buy or sell real estate. New episodes posted weekly.
In honor of our 5th birthday we wanted to take a look back and acknowledge our accomplishments. We believe that selling/buying a home is more than a transaction but rather a chance to create a relationship and celebrate the beginning of a new journey. We are truly lucky to be a part of this transition in our client's life.
---
Giving Back
June 2015-2016 - Main Sponsor of Arcati Golf Outing, Huntington Country Club; Arcati Foundation was founded to increase Sarcoma research. The proceeds from this event went to CSH Lab's Sarcoma research.
June 2015-2017 - Sponsor of Caumsett State Park Run/Walk; Proceeds go to the preservation of this treasured NYS park.
2015 - Penelope's Odyssey; Supporting their mission in helping families touched by pediatric cancer.
2015 - American Cancer Society, 11th Annual Benefit of Hope; This Society aims to help people to stay well, get well, find cures, and fight back against a disease that has taken so many lives. Because of their efforts over 11 million cancer survivors will celebrate a birthday this year, now that's a reason to party!
October 2015-2018 - Witches Night Out, Cold Spring Harbor; An event that brings the community together and attraction to it's local Main Street shops.
January 2016 - Sponsor of Give Back Homes; A group of real estate professionals dedicated to building homes for families in need, creating social change through the act of buying or selling a home.
December 2015-2018 - Sponsor of North Shore Holiday House Tour & Annual Spring Benefit; Proceeds for this event help bring sleep-away camp experience to more than 200 girls form low-income communities.
September 2015, 2016, 2018 - Sponsor of Huntington Lighthouse Music Festival; This unique music festival brings the community together for a fun day of music and boating. Proceeds for this event goes towards preserving the Huntington Lighthouse.
May 2016-2018 - Sponsor of Huntington Waterfront Festival; For National Safe Boating Week, The Town of Huntington hosts an informative and fun filled week, including the NYS Safe Boating Course and vessel inspections for free.
October 2016-2018 - Fall Festival, Hecksher Park; Another great community festival that brings together culture, entertainment, food and art. This event is hosted by the Huntington Chamber of Commerce and the Town of Huntington.
November 2017 - Don Monti Foundation Ball; The Ball is underwritten by the Monti/Saladino families, and dozens of staff and vendors donate their time and talents so that 100% of the funds raised go to our programs in Patient Care, Research, and Education.
December 2018 - Organized and sponsored the first Northport Village Holiday Shop-A-Thon in efforts to promote shopping local.
December 2018 - Organized and sponsored the second Cold Spring Harbor Village Holiday Shop-A-Thon in efforts to promote shopping local.
November 2018 - First Books For Babies fundraiser in efforts to raise awareness to the importance of literacy for underprivileged families.
February 2019 - Hosted North Shore Animal League America Mobile Adoption Event to help animals find loving homes.
July 2019-Present - Elena and Joyce become board members of the new Healthy Living Center at the Huntington YMCA
Recent Client Reviews
"I cannot say enough good things about Lucky to Live Here Realty and Elena and Joyce. They are the consummate professionals who truly love what they do ... and eat, sleep, breathe real estate. After using other brokers in the area, with no success, we decided to hire Lucky to Live Here to represent us in the sale of our home. I felt we were in good hands right from the beginning. They gave us an honest appraisal and marketing strategy and were relentless in their determination to sell our home. Calls and texts were answered promptly; so there was always communication. This is not the case with all brokers.Additionally, they have the energy and drive that's needed to market a house. Ours was not a "cookie cutter" house and needed just the right buyer. But, the 'icing on the cake' was the way they worked up to the final moment the house was sold. We had another accepted offer with contracts at the ready... but not yet signed...and in the interim of waiting for the signed contract, they sold the house to another buyer at full ask... all cash!! Now, that is a true testament to them and they way they work for you up till the very end. Joyce and Elena are not only the best brokers I've worked with... but the nicest. If you are looking to sell or buy...look no further than Lucky to Love Here. They are the best." - Carol Striker
"Elena and Joyce are extremely hardworking, consummate professionals. They do a phenomenal job marketing your property. Its a super competitive a world out there. Elena, Joyce and her team work closely with you to strategically differentiate, gain attention and break through the clutter. During the likelihood of experiencing drama during the listing, negotiation and closing phases, I've been consistently impressed by their poise and professionalism. They are truly standouts and I can't recommend them enough." - Peter Russell
"When selecting someone to sell your house you should visit another open house the real estate company is hosting. My wife and I visited numerous open houses on our search for a new home and Eleana and Joyce clearly stood out from all the other agents. They were extremely professional and they took the time to understand the house that they were selling and all the things that made it special. They also made sure to follow up with you to get feedback and gauge your level of interest in the property. Their level of communication via social media and newsletters on new properties was an invaluable tool. All these things made it an extremely easy choice to go with Lucky to Live Here for selling our house and it paid off. We had three offers in less than a week and were in contract in less than two weeks. We appreciated all of their efforts and advice throughout the process! An incredible team that goes the extra mile to make their customers happy." - Kevin Dattolico
---
About Our #WomenLed Small Brokerage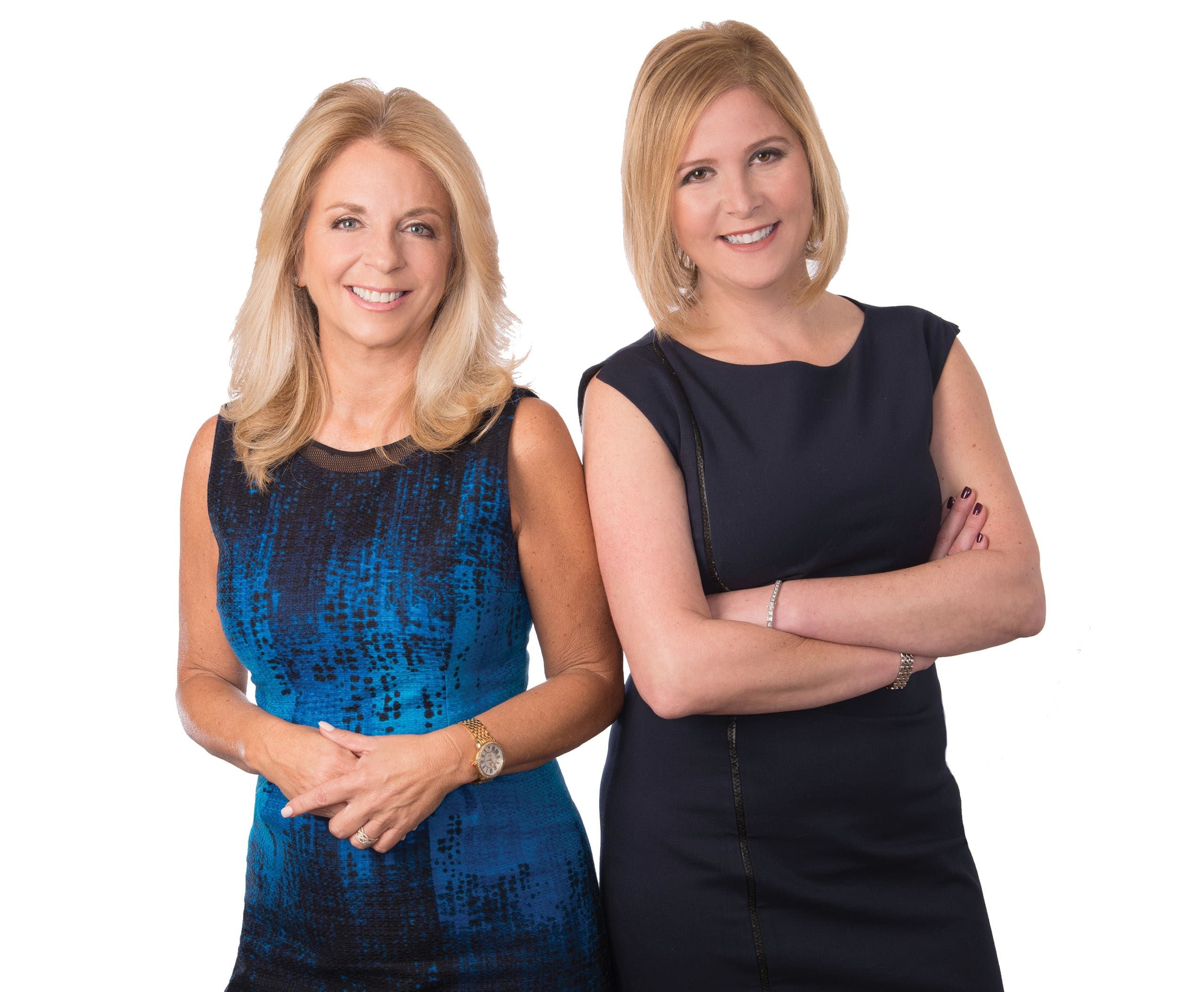 Elena D'Agostino and Joyce Mennella met and partnered in 2011, and after having a vision of a Lucky To Live Here lifestyle they decided to branch out on their own to create Lucky To Live Here Realty in 2015.

Both share the passion of promoting and supporting communities surrounding Cold Spring Harbor, Lloyd Harbor, Huntington, Centerport, Northport, and beyond. Through the Lucky to Live Here motto, clients are invited to events to expand their circle of friends and discover more about the area. Between Elena and Joyce's wealth of knowledge about real estate and their passion to help buyers transition to a community, Lucky To Live Here Realty was born.
We're feeling extra Lucky this week!
Worked with us? Share your experience on Google+, Facebook, Zillow or Yelp for the world to see!