Fall & Winter Hikes, Runs & Walks In The Huntington /Five Harbors Area
Get out, get fit, socialize and enjoy beautiful surrounding at these runs and walks in Huntington Township and the communities surrounding it .


1st Day Hikes & Run 2020
1/1 Cold Spring Harbor Fish Hatchery: New Year's Day Hike
1/1 Maggies Mile @ Sunken Meadow State Park
1/1 Hither Woods New Year's Day Hike
1/1 NYS Parks Dept Hosted 1st Day Hikes on Long Island:
-Caumsett State Park
-Bethpage State Park
-Shirley Chrisholm State Park
-Jones Beach State Park
-Connetquot River State Park Preserve
-Sunken Meadow State Park
-Ridge Conservation Area
-Hallock State Park Preserve
-Montauk Point State Park


Upcoming 2020 Events
1/26 Ice Breaker International Marathon & Half Marathon
2/9 - Mardi Gras 7.1 Mile Run to the Great South Bay Brewery
3/14 Lazer, Aptheker, Rosella & Yedid 15 Kilometer Run/Kings Park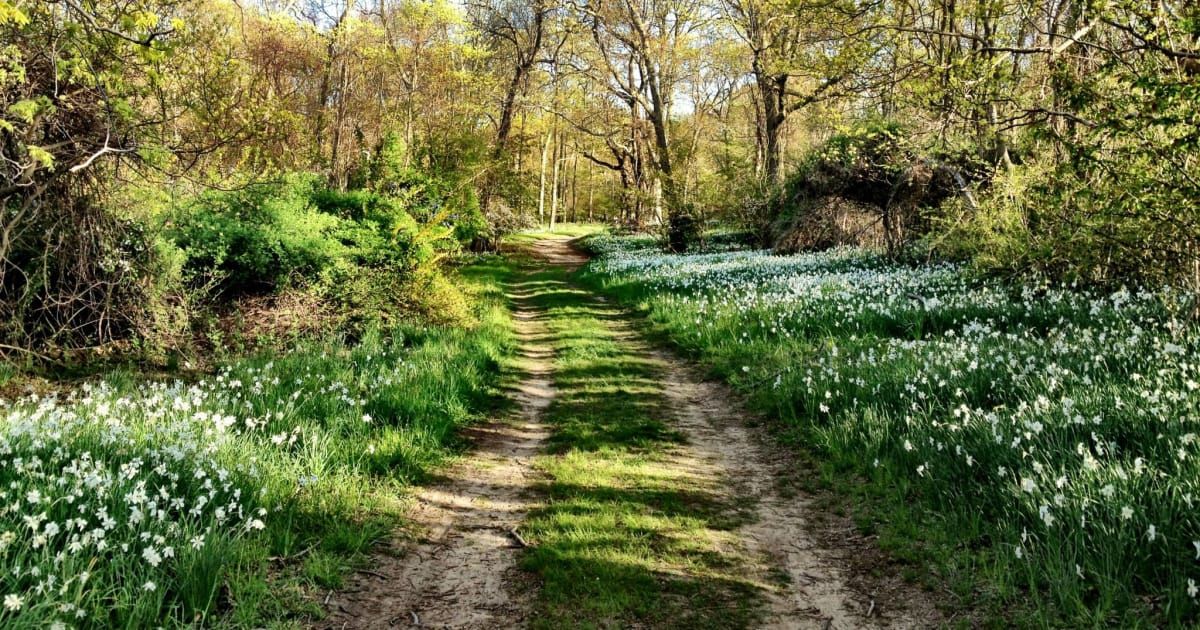 Check back in March 2020 for an updated list
---
Past Fall/Winter Events in 2019-
check back 9/2020 for Fall/Winter updates
Hikes
9/15 Caumsett Caper - exploring many of the little known trails and going on the cliffs to get a great feel for this extraordinary park. For more info & registration
9/18 Cold Spring Harbor Hill Hop- not for beginners. easily one of the toughest hikes on LI, with an extremely rewarding view of the harbor and many ups and downs on the way. For more info & registration
9/24 Planting Fields Frolic- We will explore the wooded trails and open fields of this beautiful arboretum. For more info & registration
Kayaking/Stand Up Paddling
Dates Throughout the beginning of Fall : JK Kayak & SUP has various tours in Cold Spring Harbor & Huntington by kayak and by sup. For Info & Registration
Runs & Fun Runs
9/8 - Travis Manion Foundation 9/11 Heroes Run/Walk/Ruck- Huntington - The 9/11 Heroes Run/Walk/Ruck activates and unites communities to honor the sacrifices of those heroes from September 11th and the wars since, to include veterans, active duty, first responder, and families of the fallen. The 9/11 Heroes Run 5K +1M* fun run/walk welcomes runners, ruckers and walkers of all levels and of all ages, volunteers, friends, and family. It is not about fitness level or experience but about activating, uniting, and honoring our heroes.
9/15-10/20 Healthy Kids Running Series- Huntington Station - The Healthy Kids Running Series is a five (5) week running program in the spring and fall for kids from Pre-K to 8th grade. Each HKRS Series takes place once a week and offers age appropriate running events including the 50 & 75 yard dashes, the 1/4 mile, the 1/2 mile and the one mile run. Kids compete each week for a chance to earn points. At the end of the Series the boys and girls who accumulate the most points in their respective distances are awarded trophies. All participants receive a medal on Week 5!
9/21 - Great Cow Harbor 10K Run& 2K Fun Run/Walk- Northport- Great Cow Harbor 10K Run is one of the most prestigious foot races in the country. Runner's World has named the Great Cow Harbor 10K Run as one of the top 100 races in the USA. New England Runner regularly places The Great Cow Harbor 10K Run in its Top 100 Races, stating "Big race atmosphere in a small town on the Island; it's a winner! Who says those "rolling" courses can't be fun?" The 2K Fun Run / Walk has been a huge success. This event attracts families and participants of all ages. Over 1000 2K and 5000 10K entrants are expected.
9/22 Little Apple Fun Run- Lloyd Harbor- Funds raised from the Little Apple Fun Run will be used to improve Lloyd Harbor Elementary School in both academics and recreational areas.
10/6 Whit Whit Walk- Lloyd Neck- The Whit Whit Fund raises money to research Pediatric Cancers.
10/19 Oyster Bay Town Supervisor's 5K- Oyster Bay- exciting course through the heart of the hamlet of Oyster Bay. Bring the family and stick around afterwards for all the fun at the Oyster Festival!
10/19 5th Annual Halloween 5K Run- Greenlawn- A rambling 5k run through the town of Greenlawn beginning and ending at Oldfield Middle School.
10/26 Project PLAY 5k- Gather your friends for a morning of fun! The 5k starts and finishes at the beautiful Heckscher Park and runs along the water on West Shore Road, for an out and back course.
11/2 Veteran's Day Cross Country 4K Run- The Northport Running Club and the Northport American Legion present the 40th Annual Veterans Day 4K Cross Country Race. Held each year on the weekend near Veterans Day, the race is run on the grounds of the VAMC Hospital in Northport, NY.
11/10 Blue Ribbon Run/Walk for Prostate Cancer- Old Bethpage Village- Participants will enjoy the challenging 5K course through beautiful Old Bethpage Village Restoration while IMF offers FREE prostate cancer screenings on-site, an informative urology and men's health exhibit, refreshments and fun prizes for participants – all for a great cause!
11/28 - Townwide Fund's Thanksgiving Charity Run- Huntington- Runners will start off at the head of Huntington Harbor and enjoy the scenic "out and back track" along the Mill Dam Road and West Shore Road passing Mill Dam Park, Gold Star Battalion Memorial Beach and the historic Coindre Hall. Enjoy the beautiful water views of Huntington Harbor for more than 3 miles!
11/28 Oyster Bay Turkey Trot 5K by the Bay- Oyster Bay- A 5 Kilometer Run / Walk through the streets of Oyster Bay-- Start : On The Corner of South Street and Audrey Avenue-- Finish : In The Theodore Roosevelt Memorial Park
12/15 Tough Cookie 8K Trail Race- Enjoy the spectacular scenery of Sunken Meadow State Park on the challenging trails of Long Island's North Shore. Raffle and cookie fest to follow along with five year age group awards.
Triathlon's & Relays
9/22 Ocean to Sound Relay- Teams of eight runners each will traverse a scenic course through the rolling countryside of beautiful Long Island. Each participant will run between five and seven miles. The event includes a gala-post race party under a large tent featuring 4 1/2 hours of unlimited beer, wine, soda and food. There will be music and dancing.
Walks & Walking Tours
9/22, 10/6, 10/19, 10/27, 11/10 Cold Spring Harbor Lab: Science Walking Tour. For Info & Registration
9/21 Huntington Historical Society: Old Burying Ground Tour. For Info & Registration
9/29 Fall Bird Walk at Matheson Meadows - Lloyd Neck. For Info & Registration
10/17 Huntington Historical Society: Walking Tour & Pub Crawl. For Info & Registration
10/19 Cold Spring Harbor Whaling Museum: Harbor Haunts Tour. For Info & Registration
10/26 Huntington Historical Society: Old Burying Ground Tour. For Info & Registration
11/9 Huntington Historical Society: Old Burying Ground Tour. For Info & Registration
12/1 Observe the Winter Waterfowls at Caumsett. For Info & Registration
Walking & Boating Tours
9/15 Huntington Historical Society: Tide Mill Tour. For Info & Registration
9/17 Huntington Historical Society: Tide Mill Tour. For Info & Registration
10/16 Huntington Historical Society: Tide Mill Tour. For Info & Registration
10/27 Huntington Historical Society: Tide Mill Tour. For Info & Registration
10/31 Huntington Historical Society: Tide Mill Tour. For Info & Registration
Walks & Runs A Bit Outside The Town of Huntington
9/22 Ronald McDonald House of Long Island Walk of Love & 5k Run- Stony Brook
9/22 Bamboo Walk at the Humes Japanese Stroll Garden- Mill Neck
9/28 Northwell Health Great South Bay Run
9/28 St. Vincent de Paul of Long island Friends of the Poor Walk/Run 2019- Bethpage
10/6 Hope Runs Here 5-Mile Run to Fight Breast Cancer- Islip
10/6 Hercules on the Harbor 10k- Stony Brook
10/20 The John Theissen Children's Foundation Freaky 5k- Wantagh
10/26-10/27 Catholic Health Services Suffolk County Marathon/Half Marathon to Support Our Veterans
10/27 Michael Sena's Run for Hope - Deer Park
10/27 Mercy Center Ministries Halloween Costume 5K Run/Walk - Calverton
11/3 Kid-Friendly Walk at Bailey Arboretum - Lattingtown
11/10 Nassau County 5k Turkey Trot- East Meadow
11/24 The Long Beach City Council Turkey Trot- Long Beach
11/28 2019 Port Washington Thanksgiving Day 5 Mile Run - Port Washington
11/28 Smiles Turkey Trot 2019 - Blue Point
12/7 16th Annual Seaford Wellness Hot Chocolate 5K Run/Walk - Seaford
12/7 The Long Beach Jingle Bell 5K Run - Long Beach
12/8 Jingle All The Way 5K - Seaford
For more great runs & hikes...
Northport Running Club - coordinates runs and events through the year.
Greater Long Island Running Club (GLIRC)- hosts runs across Long Island.
Long Island Greenbelt Conference - unique, non profit grassroots org that has created more than 200 miles of hiking path on LI & more.
Run.LI - a portal dedicated to Long Island runners.
NYS Winter Run Series - various runs throughout state parks
EventPower Empower Youself- empowerment events, runs and races