Update and enhance your kitchen with some of 2019's top trends. You may be tempted to do a full overhaul on your kitchen and make it as "up-to-date" as possible, but be forewarned that not all trends are created equal and may go out just as soon as they came in. Incorporate various elements to update without investing in a full remodel- check out our * for some simple ways.
And don't forget- a coat of fresh paint goes a long way as well as trend #9.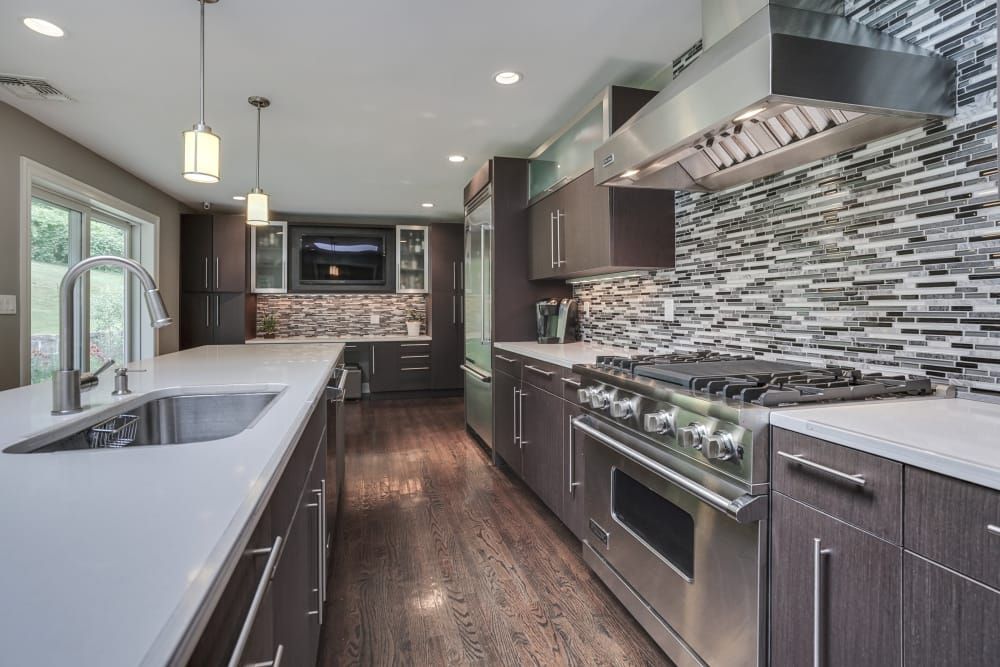 1. Islands
An island is the social hub of your kitchen. They can be designed to provide extra storage, space for under cabinet appliances and a casual dining spot. If you are replacing your current island- you might look at a waterfall worktop- which is a surface that appears that flows over the edge and down to the floor.
2. Darker Hued Cabinets
If you are a fan of color then this years current trend of darker moodier colored cabinets will be your time to shine. Dark blues, black and greens are all the rage.
*Don't want to renovate- update by painting your existing cabinets or opt for a two-tone look which is still a favorite from last year.
3. Statement Backsplash Wall
Designers are taking the backsplash and kicking it up... and by up ...we mean to the ceiling. Stylish kitchens are featuring an entire wall of tile. This adds texture and visual interest.
4. Industrial Countertops
Picking a countertop that is versatile, tough and beautiful can be tricky especially with all the products out there. 2019 looks to be the year of textural surfaces such as concrete.
5. Gold,Copper, & Brass Elements
These metals are no longer considered passe' and instead you are seeing them in everything from sinks to vent hoods to fixtures to hardware. The look is very sophisticated and is also vintage in feel.
*Want to incorporate this trend - purchase some kitchen accessories to bring in these rich metals.
6. Unique Lighting
Suspended lighting like pendants add a stylish touch. They are versatile and practical; they can be hung at any height needed. They add ambient lighting where other lights may be too bright and harsh. They also are perfect for illuminating concentrated area.
* Convert recessed light to a pendant fixture with a recessed fixture converter.
7. Smart Tech
Maybe the Jetsons were on to something! Technology is making waves in the home as Google, Apple and Amazon make your home Smart. Appliance companies are making appliances which connect to your phone and various apps to make life easier.
* You don't need to renovate to make your kitchen smart - check out these appliances- 9 Smart Kitchen Appliances & Tech To Make Your Home Smart
8. Banquette/Bench Seating
Kitchen turned lounge. Designers are adding built-in bench seating or furniture with a similar look. Sit your guests with ease and comfort. This seating option also may provide extra storage inside or underneath.
9. Minimalist
In 2019, it's about storing your gadgets in deep drawers and in cabinets. It's also about picking appliances which are concealed under counters. You may thank yourself for all the uncluttered work-space.
* Decluttered spaces are the most aesthetically pleasing and can really help you showcase your home if you plan on selling.
In today's real estate world everything an agent does revolves around the internet. An a...