6 Tips for Hosting The Holidays
Blog co-written by guest blogger, Susan Calabria of Susan Calabria Design Studio
It's that time of year again... party season. We know it can be stressful but with these tips from Susan Calabria of Susan Calabria Design Studio, you will be able to be a part of the party, enjoying as your guests do, not just doing all the work.
Below are some of our favorite tips to help you plan and organize a Holiday Dinner Party to remember for years to come.
And……one last thing………
The best dinner parties run long, with old stories shared over twice filled coffee cups and warmed brandy…..CHEERS!!!
A word from Susan Calabria
"The Holidays are upon us and what I enjoy doing most is helping my clients get their holiday decor up and looking fabulous and help them design and plan for their Holiday Dinner Parties. Dinner Parties that guests will rave about until next years' Holiday Dinner Party!! The heart of great entertaining is Simplicity. It's that easy! Just be true to who you are and everything will fall into place. Creating an illusion of effortlessness is what sets the tone for your guests to enjoy the evening being inspired. I hope these tips will help you create a Holiday Party to remember. Enjoy the moment as the holidays go by quickly. Wishing all of you a very Merry Holiday and a New Year to outshine all past New Years!!"

1. RELAX, RELAX, RELAX
Try and stay relaxed. If you're relaxed, your guests will be too! As the host, you set the vibe for the evening. Enjoy the drinks and the food and your guests will follow suit. Remember…. YOU GOT THIS! Stay cool and composed even if you see a drink spill or food fall on the floor. Your guests will be amazed at how unflustered you are. Like the old saying goes……'EAT, DRINK AND BE MERRY' with your guests and your party will be a hit.
2. KEEP YOUR MENU SIMPLE
Most of us tend to complicate things….even when planning a menu for a dinner party. Stick to tried and true recipes that you know how to prepare well. Your main meal should be able to be prepared almost entirely before your guests arrive. Here's a sample menu idea for you to WOW your guests: A juicy Herb Crusted Prime Rib, Parmesan Roasted Potatoes, Roasted Brussel Sprouts with Pecan and Pancetta and Ginger & Orange Glazed Baby Carrots. Now….doesn't that sound yummy and mouth watering?? And….easy to plan ahead.
Also no one is judging if you cater in! Some of your favorite restaurants and local shops offer fantastic catering packages for the season. For a unique experience, you could bring in a local chef to help prepare dinner. Chef David Buico local store owner, Mercato Cucina, and an Executive Chef in NYC for 30 years has been bringing his love of cuisine to his customers whether at the market or private dinners.
Additionally, a good hosts makes sure that there is always water and a good wine on the table during dinner.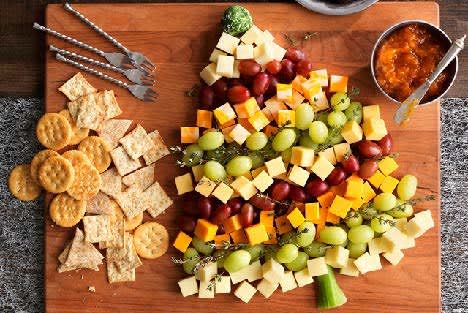 3. DON'T CORDON OFF THE KITCHEN
Make your guests feel welcome in the kitchen. For most, the kitchen is the sanctuary for conversation and congregation. Set up your Hors D'Oeuvres on the kitchen island so you can enjoy your guests as you put the finishing touches on dinner. What's better than food, drinks, friends and good conversation?
4. STOCK THE BAR
Make sure your bar is stocked for the Holiday Festivities. Below is a list of what to have behind the bar to create crowd pleasing cocktails. Oh…..and please be responsible and have a phone number for a car service at hand so everyone can get home safe!!
BAR LIST
Hendricks Gin
Belvedere Vodka
Elijah Craig Small Batch 12yr. Single Barrel Bourbon Dolin Dry Vermouth
St. Germain
Champagne
Spectacular Ginger Beer
Simple Syrup
Angostura Bitters
Club Soda & Tonic Water Cranberry Juice Lemons, Limes, Oranges Olives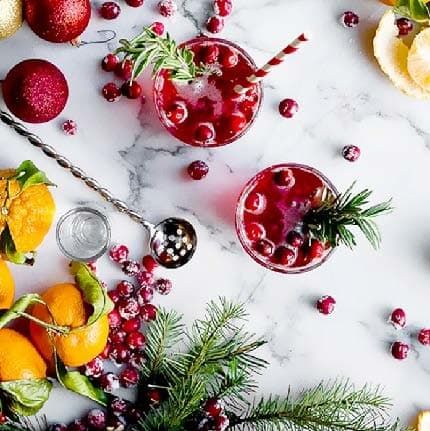 5. DECOR & TABLE DECOR
Decorating is NOT difficult. Again…..stay true to yourself and create the atmosphere you would like for the evening. From the invite, to the table decor to the music, the aesthetic should be consistent and reflect your taste rather than thinking about what's proper or what your guests would do. Create a welcoming experience whether it's a more formal feeling or a more informal feeling. Formal styles have a more refined ambience.
And Informal styles have a colorful mix that is more lighthearted and whimsical...
6. CUE THE MUSIC
Create your playlist ahead of time and pick songs you love. The music is about welcoming guests into your domain and it will make them feel happy and relaxed. Music is the best way to take your evening from just dinner to a dinner PARTY!!!