4th of July Fun Across Long Island
From Montauk to Manhattan, the skies will be illuminated with spectacular light shows. Not only will the Five Harbors area be lucky to have fireworks here but Independence Day celebrations!
Happy 4th of

July - Have a Blast!
---
Five Harbor Fireworks
photo courtesy of Elena M. D'Agostino of Asharoken Fireworks
One of the best shows in the area are launched from a barge off the Long Island Sound side of Asharoken Avenue. Prime places to view this display include Centerport Beach on Little Neck Rd, Crab Meadow Beach on Waterside Ave, Hobart Beach on Eatons Neck Rd and Asharoken Beach on Asharoken Ave. The fireworks by Grucci will begin at approximately 9:15 pm (7/4). There is no parking on any village street or public parking facilities in the Village of Asharoken. Traffic laws are strictly enforced.
Oyster Bay


The Dolan Family has hosted an annual July 4th celebration in the past which has included a fireworks show at their home in Oyster Bay. However these fireworks are not guaranteed. Please check local news outlets for any information about this fireworks show or its cancellation.
James Joseph II 4th of July Fireworks Cruise will be departing at 7 pm departure from Huntington Town Dock.
**Please check with the boat about which fireworks show they will be transporting you to.**
* Please be aware that for July 4th, the town of Huntington has again imposed a 5MPH speed limit in these areas.


Independence Day Celebrations in the Five Harbors


photo courtesy of Northport Community Band at Niorthport Bandshell
7/3 Huntington Summer Arts Festival @ Heckscher Park: Huntington Community Band
7/4 Raynham Hall Museum: Home of George Washington's intelligence operative Robert Townsend, Raynham Hall is a time capsule of Long Island life in the 18th and 19th centuries.
7/4 Huntington Summer Arts Festival @ Heckscher Park: North Shore Pops Concert Band
7/4 Northport Bandshell: Northport Community Band
7/8-7/13 Northport Fire Department Annual Fair
7/14 Huntington Independence Day- Re-enactment of 1776 events in Huntington
Celebrate Five Harbors Revolutionary History All Year Long by Visiting:
Raynham Hall, Huntington Historical Society
Beyond the Five Harbors
To The East: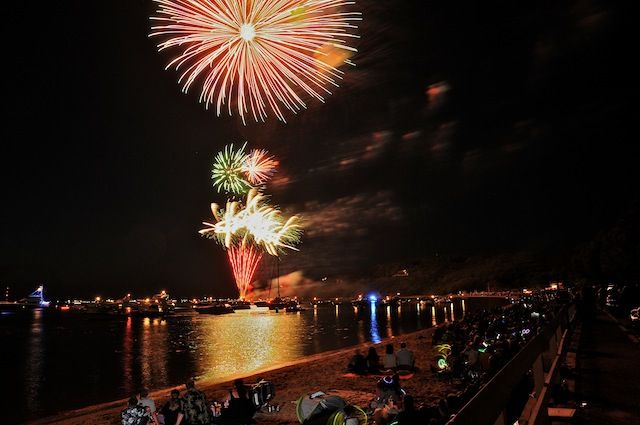 photo courtesy of Northforker
6/29- Riverhead Raceway: Teachers Federal Credit Union Night NWAAS 69th Year Celebration w/Fireworks- Demo Derby, Kids Big Wheel Race
7/3- Amphitheater at Bald Hill- The Fest presented by My Country 96.1 FM- 55 South Bicycle Path, Farmingville.
7/4- Stars over Montauk - Umbrella Beach by Grucci show begins. Get there early, bring beach chairs and enjoy another one of the most beautiful displays on Long Island.
7/4- Long Island Ducks: Sugar Land Skeeters at Long Island Ducks & Fourth of July Fireworks Spectacular
7/4- BMHMC Ampitheatre at Bald Hill: Independence Day Celebration at Bald Hill
7/5- Shinnecock Bay: American Picnic with Fireworks by Grucci
7/6- Long Island Ducks: Southern Maryland Blue Crabs at Long Island Ducks & North Inspiration Series Fireworks Spectacular presented by Northwell Health
7/6 Three Village Historical Society: Explore & Discover Setauket's Revolutionary History
7/6- Orient Harbor- July 4th Fireworks
7/12- Fireworks Eve Party at SALT
7/13- Shelter Island Fireworks at Crescent Beach
To The West:
photo courtesy of fireworks.jonesbeach.com
6/29- Eisenhower Park- TD Bank's Celebrate America Fireworks & Show with music
Glen Cove/Morgan Park: Summer Music Festival (Sundays)
- 7/4 Morgan Park: Richie Cannata and the Lords of 52nd Street/ A Billy Joel Tribute
7/4- Fireworks at Jones Beach! Spectators will be entertained with vibrant colors and awesome sounds simulcast to a musical array of patriotic songs. This memorable day will make a lasting impression for all Long Islanders and visitors. Get there early and grab a spot on the beach or hop on board one of the Captree Fleet.
7/4- Old Bethpage Village- Experience an Independence Day celebration like no other modern day event. The 1863 Independence Day is celebrated in the same fashion as it was 155 years ago. Historic trades, contra dancing, brass band concerts, historic military drills, fiddle music along with a ceremony & parade.
7/4- Old Bethpage Village: Old Time Base Ball
7/9- Oyster Bay Township @ John J. Burns Park in Massapequa: Salute to America with fireworks by Grucci and celebration of veterans and active duty military personnel.
Brooklyn, NYC & Queens: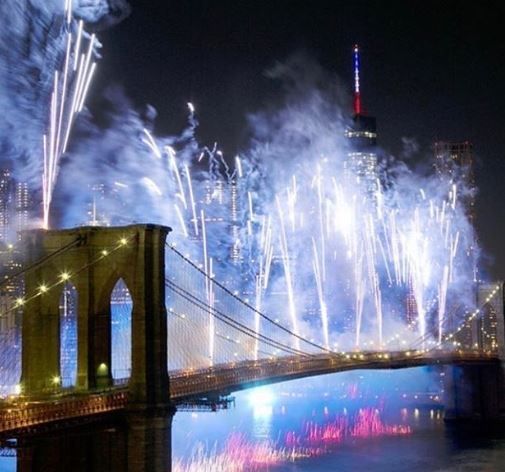 photo courtesy of @ryanmaguires
6/27- Astoria Park: 35th Anniversary Independence Day Celebration
6/27- Randalls Island Park: Fireworks & Fun
7/3- Brooklyn: Fort Hamilton Independence Celebration
7/4 - NYC: Macy's Fourth of July Fireworks - is America's biggest fireworks display! Live on the Hudson River in Manhattan at 9 pm. View it on TV WNBC channel 4 starting at 8pm.
7/4- Brooklyn- Fort Greene: Historic New York- Prison Ship Martyr's Monument
7/4- Coney Island: Fourth of July Celebration & Fireworks
7/6- Queens: Phillies @ Mets/Citifield- Post Game Fireworks
Happy 4th from the Lucky to Live Here Team!
*Please note events are subject to change
Stay Awhile: