With the Super Bowl just a couple days away, everyone is getting their game day menus together. An estimated 189 million viewers are expected to watch the New England Patriots vs. Atlanta Falcons this year, and nearly 60 millions are expected to attend a party, according to a survey from the National Retail Federation (NRF). And they will be hungry! Though Superbowl Sunday is not an official holiday (yet!), the amount of food Americans consume on Superbowl Sunday is second only to Thanksgiving. So if you are still ironing out all the details for your Superbowl Sunday.. here are some of our favorite places to watch the game or grab some apps like our all time favorite game-day snack-- wings!
Dine In or Take Out...

photo courtesy of Black & Blue
Black and Blue Seafood Chophouse- Has a bar menu which has everything from pigs in a blanket, 13 types of wings, and loaded fries!
65 Wall Street, Huntington, NY 11743
631.385.9255
photo courtesy of Christophers
Christophers Courtyard Cafe is a popular Huntington pub with weekly specials and late night menu. Enjoy the game and activities inside or out back in the Courtyard.
8 Wall Street, Huntington, NY 11743
631.271.0111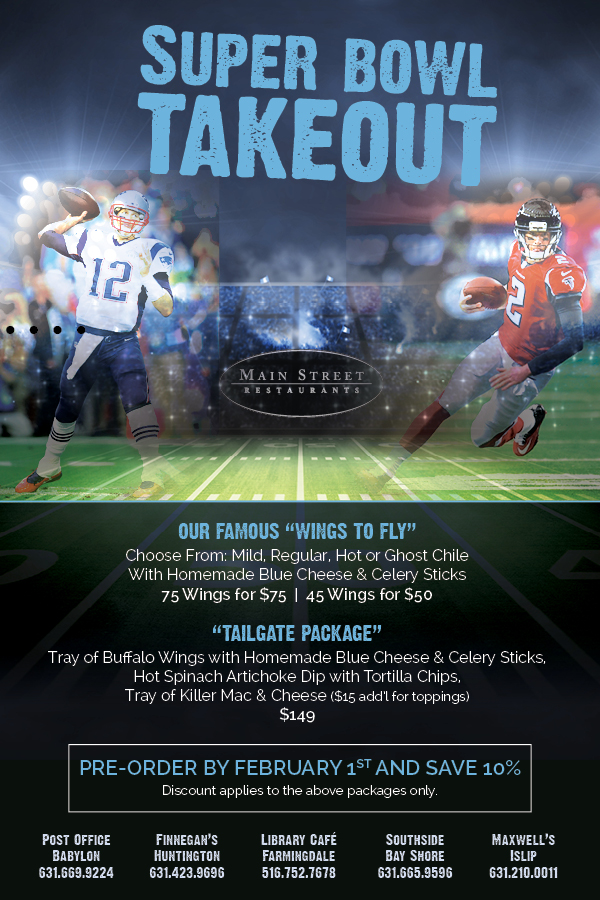 photo courtesy of Finnegans
At Finnegans you can eat in or you can order off of their Superbowl Menu where you can choose from two options- "Our Famous Wings to Fly" or the "Tailgate Menu" which includes wing, dip and a try of killer mac n' cheese.
5 Wall Street, Huntington, NY 11743
631.423.9696
photo courtesy of Rust & Gold
Rust & Gold the new kid on the block has been garnering rave reviews. Make your way over for delicious dips, snacks, flat top burgers and franks.
70 Gerard Street, Huntington, NY 11743

631.629.4431
photo courtesy of Meehans
Meehans has for your favorite beers and feel good food around the large bar.
371 New York Avenue, Huntington, NY 11743
631.351.0831
photo courtesy of Nappy Tandys of Northport
Napper Tandys of Northport, famous for the all-you-can-eat-wing-Wednesdays, is sure to offer fun and games on Sunday.
229 Laurel Ave, Northport, NY 11768
631.757.4141
Need additional catering...
Hometown Bakeshop has half tray servings and platters of Mac & Cheese, chili, wings, biscuits, dips, salads and more! Also enjoy dessert football face off between boston cream and peach cobbler.
2 Little Neck Road, Centerport, NY 11721
631.754.7437
Southdown Marketplace will prepare all your party needs whether you need big heroes or trays of wings.
205 Wall Street, Huntington, NY 11743
631.351.9660
Mr. Sausage is the place to go for the best Italian take out and catering. Be sure to get their specialty raviolis- they may even have their fried buffalo chicken filled variety!
3 Union Place, Huntington, NY 11743
631.271.3836
Need beverages...
For libations head to Harbor Beverage and Shoreline Beverage for craft beers, old classics and if your party is big enough- a keg.
Need some sweets...
photo courtesy of Blondies
If you're in the mood for something sweet- Blondies Bake Shop in Centerport has been baking football shaped cookies perfect for a game-day treat.
90A Washington Drive, Centerport, NY 11721
631.425.4545
Sweeties Candy Cottage is creating more delicious sports themed confections including candy covered pretzels!
142 E Main Street, Huntington, NY 11743
631.423.7625
Looking for a bar....
For a 'liquid' diet... Nag's Head, The Tavern and Mary Carroll's are sure to have cold beer and large screens for great viewing.